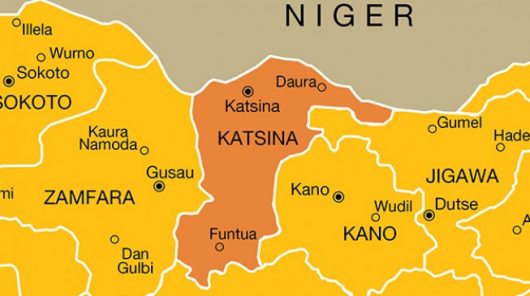 By Ikechukwu Okaforadi
The Senator representing Katsina Central on the platform of All Progressives Congress (APC), Kabir Abdullahi Barkiya, yesterday took the rampant cases of banditry in his state to the Senate.
He urged the upper legislative chamber to mandate the National Emergency Management Agency (NEMA) to intervene in ameliorating the plights of the victims of the banditry in the state.
Senator Barkiya, who moved a motion titled: "Incessant invasion of bandits in Katsina State, particularly Katsina Central", lamented the recent and incessant trends of attacks, kidnapping and killings unleashed by bandits on the once peaceful Katsina State.
This, he said, has brought commercial, religious and social activities in the state to a standstill, resulting in loss of lives, displacement of residents of towns and villages, destruction of livestock and crippling of businesses.
He particularly observed with dismay that these attacks occurred in the towns of Batsari, Rumar, Tsohuwa, among others, including Gobirawa and Sabawa in Safana local government, where he said more than seventeen persons have been killed.
He also said in Kurfi local government area, about forty nine people were kidnapped and all their belongings stolen, just as he said also in Mara Zanfarawa in Danmusa local government, people were kidnapped.
"In Shimfida village in Jibia local government, twenty people were killed, thirty people kidnapped and ten vehicles were burnt after looting all the belongings and goods of the victims", he said, even as he recalled that the attacks have taken a new turn since February when a senior military officer and six others were killed in Kasai village.
"Despite the efforts of the state government to dialogue and negotiate with the bandits to bring a lasting solution to the problem, there are still cases of banditry in some local governments like Batsari and Kurfi, indicating that urgent action is needed to nip these attacks in the bud", he said.
At this juncture, he commended the efforts of the federal government, which he said has instructed the security agencies to continue to engage the bandits in battles towards securing the lives and property in the state.
He said also that the state government has given the last window to the bandits to surrender their arms and embrace peace, which he said, if it fails, the state government will have to engage the bandits in a battle that must bring the crisis to an end.
Sequel to the debate on the motion by the senators, the upper chamber directed the NEMA to send relief materials to the victims of the banditry in Katsina state to address their challenges, even as it urged the federal government to strengthen the security agencies to gear up their activities in the state so as to forestall further attacks on the people.