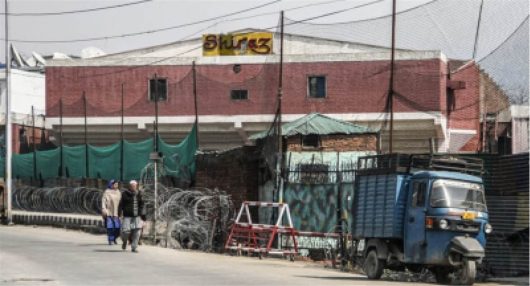 By Aijaz Nazir
Srinagar, India-administered Kashmir – A few yards away from Srinagar city's famous clock tower in India-administered Kashmir are the ruins of Palladium, once a famous film theatre.
All that remains of what used to be a thriving hangout in the strife-torn city are its faded yellow walls. That desolate look is the tale of Kashmir's film theatres, which closed down after an armed rebellion against India's rule in the region began in the late 1980s.
As protests demanding "azaadi" (freedom) on the streets of Kashmir grew in 1989, screening of movies became a major casualty. Soon, the arrival of Indian army in the valley saw some theatres turn into military garrisons. Others have turned into hotels, hospitals, shopping complexes, or remain abandoned.
Worse, the Kashmiri rebel fighters declared screening of films in "movie halls" or "talkies", as they are commonly called in India, as un-Islamic.
Today, the deserted theatres only evoke nostalgia, especially among the older Kashmiris.
Arif Shafi's family owned Naaz cinema, located in Srinagar's famous Lal Chowk. He was 12 when the theatre closed.
"I used to spend time with my father at Naaz. I remember a huge rush when a major film was screened. Four to five shows happened in a day. There used to be separate cabins for families," says Shafi.
Shafi has little hope of a revival of Kashmir's cinema culture. "The political situation of Kashmir doesn't allow the re-opening of cinema halls."
Failed revival
Almost 10 years later, in 1998, the government provided financial assistance of over $40,000 to encourage theatre owners to renovate and reopen.
Of the nine theatres in Srinagar, three theatres – Regal, Neelam and Broadway – defied the threat of the rebels and began screening films. Other theatres in the city could not reopen because they were situated in downtown Srinagar and more vulnerable to separatist attacks.
However, on the day Regal reopened in September 1999, a bomb was hurled inside the theatre, killing a man and injuring many others.
The Regal attack succeeded in dissuading other theatre owners from reopening. Soon, Broadway was also closed and later taken over by a telecom company.
Neelam continued to screen films for a while, but the stringent security measures took the fun out of watching movies, resulting in fewer people turning up for shows.
Neelam didn't have a long run either. The lime green building now houses the paramilitary Central Reserve Police Force (CRPF) troopers and is caged by barbed wire and bunkers. The sight of CRPF soldiers pointing their guns towards the street from the building makes its unique architecture look more fearsome.
Like Neelam, Sheraz cinema in downtown Srinagar was also occupied by Indian security forces after it was closed in the early 1990s. Another theatre named "Khayyam" has been turned into a hospital.
In November last year, the Kashmir World Film Festival had raked up a debate on the missing cinema culture in Kashmir. Speaking at the event, the then-Jammu and Kashmir minister Naeem Akhtar had assured of government support in reviving the closed theatres.
Sites of nostalgia
However, memories of once thriving cinema halls are still afresh among the locals, who turn nostalgic while regaling stories of days gone by when cinema halls were packed all day long.
Bashir Ahmad Shah, 50, had worked for more than 20 years in Nishat talkies in Anantnag as an operator. He says people used to come in flocks to watch films.
"People used to watch movies with their families and friends. The prolonged conflict changed everything. There was bloodshed everywhere. After cinemas were closed down, I toiled day and night to feed my family," Shah told Al Jazeera.
Shah, whose colleagues are no longer alive, says that if at all cinemas reopen, he would "love to work again".
"I remember buying tickets in black (illegally), as it was almost impossible to buy a ticket from the counters of these theatres," Ghulam Nabi, a shopkeeper from Anantnag in south Kashmir, told Al Jazeera.
Nabi says he used to steal money from his father's shop to catch the latest film. "We used to bunk school to watch a movie and end up getting beaten up at home."
A generation left out
The absent cinema culture in Kashmir has resulted in a generation deprived of the pleasure of watching a film on the big screen.
Muneeb Ahmed is 27 and has not seen a single film in a theatre.
"As a child, I used to wait for the weekend to watch movies on DD National (India's public broadcaster) despite the blurred picture quality. Mobile phones or laptops have come as a blessing, allowing us to watch good quality movies, although pirated," he told Al Jazeera.
Before internet arrived, people in Kashmir would get pirated CDs and DVDs of movies and watch them on their computers or televisions.
"Now, it's easy to download a movie from internet, and watch them after a hard day's work," Ahmad said.
Hussien Khan, a filmmaker from Kashmir, says it's unfortunate that young men haven't seen any films in theatres.
"There is a lot of difference in watching a movie in cinemas and watching the same on a TV or mobile phone. But if we can't have a cinema where Bollywood [the Hindi film industry] or Hollywood films are showcased, our younger generation deserves at least a regional cinema where we can tell our own stories," Khan told Al Jazeera.
In the pre-rebellion era, Kashmiri journalist Yusuf Jameel says, he and other journalists wrote about cultural issues and enjoyed watching movies, as well.
"The business model of cinemas here faces the twin challenges of shutdowns and violence. While the government wants to showcase normalcy by opening the film halls, Kashmir's ground situation portrays a different reality."
"Today, a Kashmiri journalist's focus has shifted from covering culture and tourism to counting dead bodies," says Jameel. "Also, people would not like to be seen as enjoying movies when there is persistent violence on the streets and young boys are losing lives."
Source: Aljazeeranews .com