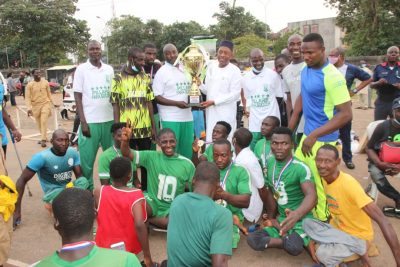 By Amaechi Agbo
Kano State para-soccer team on Saturday maintained their dominance as the clinched their 6th crown in the 2020 edition of National Para-Soccer Championship held at the Old Parade Ground, Area 10, Abuja
The Kano team defeated their Nasarawa state counterpart 1-0 in a pulsating clash to record their 6th consecutive triumph at the national competition.
In the third-place match played earlier, last year's runner up, Katsina state defeated Yobe state 2-1 in a penalty shoot-out to won bronze in the 2020 edition.
After 4 days of hostilities among the 8-participating states Kano team has become the most successful state in the competition meant to commemorate World Polio Day in the country.
Eight out of the expected 12 teams took part in the championship, which started on Wednesday.
Meanwhile, President of Nigeria Para-Soccer Federation (NPF), Lawal Misbahu Didi, has revealed that the federation has engaged more than 2,000 polio survival in the polio eradication advocacy and partnership with UNICEF and others donours
He stated this on Saturday in Abuja when the Kano state Para-soccer team piped Nasarawa state 1-0 in an epic final of the 2020 National Para-Soccer Championship Saturday in Abuja.
According to him, we thank all development agencies who have been partnering in polio eradication for many years under our collaboration and partnership we have engaged more than 2000 polio survival in the polio eradication advocacy and partnership with UNICEF and others donours.
"So far, so good, we thank God for giving us the privilege to end this year's edition well, we have started peacefully and ended peacefully and as you can see teams are happy, I am using this medium to thank those who have to support us to have this success especially the Nigeria polio plus committee that has been our partner for 8 years and other donours."
He, however, appealed to private organizations, philanthropists who have been contributing to the well-being of people living with disabilities to own a Para soccer team that will give privilege to more people living with disabilities to be employed.