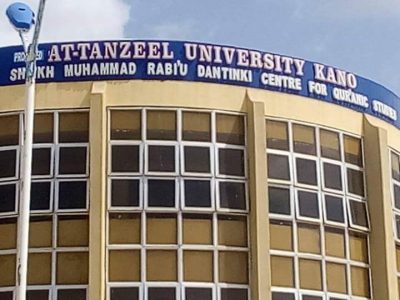 By Usman Shuaibu
Kano state government has granted additional parcel of land to the proposed At – Tanzeel University, to enable it construct more infrastructure necessary for the take-off of the institution.
A statement by Salihu Tanko Yakasai, Director General Media and Communications, Government House, Kano which disclosed this yesterday, said the additional land hitherto belonged to a public tertiary institution but was ceded to the proposed university, on condition that its proprietor will pay compensation for the existing infrastructure on the land.
Accordingly, the promoter of the University, Khalifa Isyaku Rabi'u, represented by Alhaji Rabi'u Isyaku Rabi'u, presented a bank draft of the compensation, in the tune of N121, 336, 233. 13, to the state governor, Dr. Abdullahi Umar Ganduje, at the Executive Council Chambers of the Government House in Kano, this afternoon.
Speaking shortly after receiving the bank draft, Governor Ganduje explained that the government agreed to give the land to the university, to enable it fulfill part of the guidelines of the National Universities Commission (NUC), before it can be granted operational license.
The governor explained that payment of the compensation meant that the management of the university can now go head to use of the land, to start the first private university in the state.
"I must commend Khalifa Isyaku Rabi'u for embarking upon this project which is a significant milestone in the effort to consolidate the knowledge base of our state", the governor stated.
Governor Ganduje noted with delight that the proposed would greatly assist in catering for the academic needs of not only students from Kano but from other parts of the country and beyond, describing it as a legacy that would hopefully outlive its founder.
Earlier, Khalifa Isyaku Rabi'u represented by Alhaji Rabi'u Isyaku Rabi'u expressed appreciation to the governor, saying the project would complement efforts of the government towards expanding access to education.
He said several infrastructure have been put in place at the proposed university site, adding that a National Universities Commission team had earlier visited the proposed site and met with its implementation committee to keep things on the right track.