The governor of Kano State, Abdullahi Umar Ganduje has exonerated himself from the impeachment of the Speaker of the state House of Assembly, Yusuf Abdullahi Ata, saying he didn't know anything about the plan to remove the ex-speaker from his position.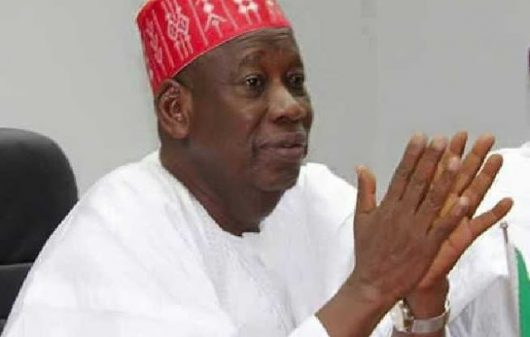 Speaking to newsmen, when he received the new leadership of the assembly, led by the new Speaker, Kabiru Alasan Rurum at the government house yesterday, Ganduje said he only received several phone calls about the development in the morning.
He added that it was then he ordered some members of the party to go and see what was going on in the house.
Ganduje, however, congratulated the new Speaker, urging him to carry everybody along in a bid to stem creation of factions in the house that might hamper the success of the All Progressives Congress (APC) in the 2019 elections.
He also expressed delight that the impeachment was conducted peacefully without blows or injuries, noting that the development had already shown how the party was exhibiting internal democracy.
"I had no knowledge about what happened in the House of Assembly. It was later I started receiving several phone calls and informed about the development.
"I worked with assembly for 8 years as a deputy governor, and 3 years as a governor. So I know how the events of the Assembly are. Nevertheless, I congratulate the new leadership and urge the Speaker to carry everybody along, in order to tame factions that would affect the success of our great party in 2019.
"I am happy that you express your 100% support to our President, Muhammadu Buhari, and his candidature in 2019. I am happy about this statement," Ganduje said.
Earlier, in a remark, the new speaker, Rurum, said he paid the visit to the governor in order to formally present the new leadership of the assembly.
He said the new Deputy Speaker is Hamisu Ibrahim Chidari, representing Makoda Local Government Constituency and the new Majority Leader is Baffa Babba Danagundi of Kano Municipal Constituency.
He added that the new Deputy Majority leader is Kabiru Hassan Dashi of Kiru Local Government Constituency, while Chief Whip, according to Rurum, is Labaran Abdul Madari of Warawa Local Government Constituency.
The new speaker also assured the assembly's total support to Ganduje and Buhari in 2019 elections, restating commitments to establish synergy with the state government for the development of the state.
Peoples Daily reports that 27 out of 40 members signed the impeachment notice to remove Ata, representing Fagge Local Government constituency.
It would be recalled that the assembly attempted to impeach the embattled Ata in May, but the tension dowsed following the intervention of Ganduje.