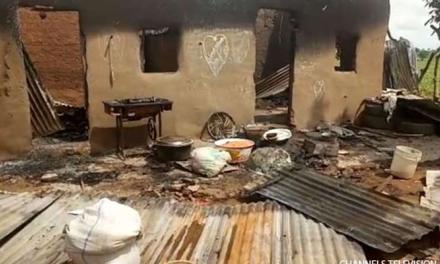 From Femi Oyelola, Kaduna
The Catholic Church of Nigeria Kaduna Diocese has donated relief materials to victims of recent attacks and killings in Karmai of Maro ward in Kajuru local government area of the State.
While presenting the materials to the victims, the Arch Bishop of the Diocese Mathew Man'Oso Ndagoso condemned the unwarranted reoccurring killings in the area and called on government and well-meaning individuals to come to the aid of people who are now rendered homeless.
The Bishop who was represented by the Coordinator of Justice Development and Peace Initiative Group of the Church, Rev Fr.Joshua Yima Achir said the killings is the very unfortunate but called on the people to take solace that they are alive today.
He condoled the victims and prayed God never to see such attack again while urging them not to contemplate any form of reprisal but to trust God for vengeance on their behalf.
Receiving the items on behalf of the victims, the village head under whose domain the attacks took place Micah Musa commended the church for remembering his subject in their moment of pains.
He expressed the appreciation of his villages on behalf of the victims and prayed God to bless the church for its kind gesture.
Some of the victims who lost their dear ones or had their houses burnt down also applauded the Kaduna Diosece for the relief materials extended to them which they said will go a long way to cushion the effect of the attacks on them.
Some of the items donated includes: bags of 50kg perboiled rice, wrappers, litres of vegetables. and of red oil, bags of maize cartons of indomie Noddle's and cartons of Royco maggi.
Other items are cartons of detergent, cartons of batting soap, 1 cartons of Vaseline, and blankets.