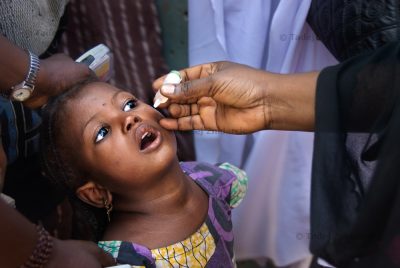 From Mohammed Ibrahim Kaduna
The Kaduna State Government said it is targeting 2.5 million children for polio immunisation across the state.
The State Primary Health Care Development Agency (SPHCDA) Deputy Director,Hamza Ikara who stated government's position yesterday, said the second round of the Polio Immunization Campaign which begins on 5th and will end on 10th April 2018.
He said the Direct Oral Polio Vaccination which is part of the campaign is taking place in Kaduna North, Kaduna South, Igabi, Zaria and Sabon Gari local government areas of the state.
"Primary Health Care Development Agency has also established 183 Health Camp in 18 LGAs, and children between 0- 59 Months are expected to be immunised in reactive of their immunisation status during this exercise," Hamza said.
He explained that the State Government, through the Primary Healthcare Development Agency (SPHCDA), with support from the United Nations Children's Fund (UNICEF), are currently conducting another round of Polio and other killer diseases routine immunization campaign in the state.
The immunisation campaign aims at helping children grow healthier and free from any form of diseases that can affect their development.
The strategies used in the campaign include street to street, house-to-house, markets, motor parks and highways, among others were implored for the round's immunisation.
United Nation's Children Fund (UNICEF), Media and External Relation Officer, UNICEF Kaduna Field office, Rabiu Musa, said UNICEF provided support for the polio campaign in the areas of social mobilization including health camp strategy, provision of vaccines and logistics of all vaccination teams.
Kachia Local Government Area, Eugenia Aiyeligba, UNICEF facilitator for the LGA, her team vaccinated 22,774 children on the first day of the campaign out of the 78,230 children targeted by the LG.
She explained that they will ensure that every child is protected against polio virus in the local government.