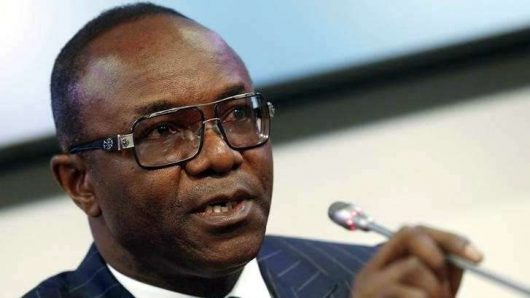 By Etuka Sunday
The Petroleum Ministry yesterday faulted Media reports credited to a coalition calling for the prosecution of the Minister of State for Petroleum Resources, Dr. Emmanuel One Kachikwu, saying that the Minister did nothing to deserve Prosecution.
The Director, Press, Ministry of Petroleum Resources, Idang Alibi in a statement said, a group called Patriots of Anti-corruption League (PAL) was reported to claim that the EFCC is covering up corruption allegations against Dr. Kachikwu, some other individuals and four companies said to have been involved in petroleum subsidy fraud.
The ministry in the statement said, "we wish to state, most categorically, that no one is shielding the Minister from prosecution because there is simply no cause for anyone or institution to shield him from anything for he has done no wrong deserving of prosecution. We also wish to let the public know that the issue of false allegations against Ibe Kachikwu and the individuals and companies mentioned by PAL is, actually, not a new one.
It said, "the invidious effort to impugn Kachikwu's integrity first started in 2016 when a shadowy group of people came out with a claim that Kachikwu, in collaboration with some individuals and some oil and gas companies, had a case to answer in relation to oil subsidy fraud, a claim the EFCC thoroughly investigated and discarded because there was no substance to it.
"The recent claim by PAL is, therefore, an attempt to rehash and repackage an old plot with a view to either blackmail Ibe Kachikwu into conceding some unnamed and unknowable favour or tarnish his good name. Whatever may be the motive of his traducers, just as that initial action failed to achieve the sinister purpose of its sponsors, this one by PAL will similarly fail as there is nothing that Ibe Kachikwu has done in the dispatch of his remit to warrant prosecution.
"We once again wish to invite the discerning members of the public to note that in the current round of crusade to bring Ibe Kachikwu down, the sponsored news plant by PAL first appeared on an online publication on Monday, September 3. When its sponsors observed that it did not gain enough traction, they chose a more credible medium in ThisDay by causing the plant to come out a week later.
"Ibe Kachikwu is a well-known individual and public official who has no stain on his character and every effort by mischievous and wicked individuals to prove otherwise shall fail woefully. It is key to note that the HMSPR has been the forerunner of the very successful reforms ongoing in the Nigerian Petroleum sector of which Transparency and Accountability are critical reforms ongoing in the sector. The publishing of the monthly NNPC financial report, resolution of the cash call bottleneck, the Gas revolution and many others are few examples of these reforms.
"He remains focused on ensuring that the sector is investor friendly and profitable", the statement said.