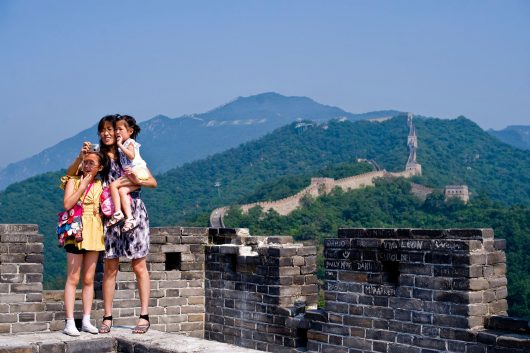 On July 2, 2018 a crew of 28 journalists drawn from nine African countries undergoing training organized by China International Publishing Group (CIPG) and sponsored by China Ministry of Commerce for Managers of the International Department of Major Media Organisation from African Countries set off to visit the Great Wall of China. Our guides, Lv Xinjia and Zhang Yuhuan from the International Communication Training Department were very kind in explaining to us about the great wall of history.
On reaching the great wall, it was a scene to behold. We were told that Juyonggan Great Wall otherwise known as Great City Wall of China is an important expect of 10-thousand-li Great Wall. The slopes on both sides of Juyongguan Pass are carpeted by a dense growth of foliage which gave it a magnificent look. The ravine is flanked by mountains with brooks flowing all year round. These mountains were facing themselves as if there were jealous of their flourishing vegetations that stood as a shield. Most times the tree will answer the blowing wind by shaking continuously to the admiration of tourists. I believe they must be talking to themselves and what they are communicating will be known one day just as so many mysteries have been revealed.
Above all, the Great Wall known as one of the Eight Famous Scenic Spots in Beijing since the Qing dynasty is strategically located and difficult to access. Juyongguan Great Wall was named "The most magnificent pass in the world" in ancient times. The auxiliary structures with different functions-southern and northern arched citadels towers, water gate, together with the pass, form a complete and tight military defense system. Entering the pass, you will see a platform called "Cloud Terrace" the terrace of Crossing-Street Dagoba dating from the Yuan dynasty. It is an exquisite masterpiece of Yuan stone carving art.
In 1961 "Juyongguan Pass-Cloud Terrace" was announced as a key national cultural heritage protection site. 1987 saw China's 10-thousand-li Great Wall listed as World Heritage by UNESCO World Heritage Committee. In 2001, Great Wall of China was evaluated "AAAA Tourism Area" by National Tourism Administration.
We were told that in the Qin Dynasty, the First Emperor of Qin inked the northern walls to prevent invasion from northern nations. In the Han Dynasty, the emperors extended the Great Wall far into today's western China to protect Silk Road trade which gave birth to present day Belt and Road Initiative. From my own observation, there is no doubt that Great Wall was built with wisdom, determination, dedication, blood, sweat, and tears. The story had it that families were separated, and many workers died. In building the wall, soldiers, peasants, rebels featured prominently and materials like stone, soil, sand, brick used were transported by hand, rope, cart, and goat. What baffles me more was how they transported such without much hassle to erect the wall that is surrounded with uniqueness.
More interestingly, the height of the Great Wall which is 5–8 meters (16–26 feet), where intact and well restored. It was designed to be at least three times the height of a man. Some of the Wall was built along ridges, which make it look taller. A watchtower at the Great Wall gave it a kingly look. It is really a wall of a great historical heritage that has distinguished Chinese architecture and security. It was an integrated military defensive system with watchtowers serving as surveillance, fortresses for command posts and logistics, beacon towers for communications, etc.
We learnt that this great wall that remains a mystery of human architecture in antiquity went through reform during the Ming Dynasty of 1368 to 1644, as it was reconstructed to be stronger and more sophisticated, due to better construction techniques being developed coupled with the exigencies of the time. The Ming Great Wall usually had battlements 1.8 meters (6 feet) high with loopholes and crenels, and parapet walls 1.2 meters (4 feet) high. Every 500 meters or less (1,640 feet) on the Great Wall there was a flanking tower allowing defenders to shoot arrows at attackers at the face of the wall. Fortresses were built at important/vulnerable access points (passes), such as Shanhai Pass Fortress, Juyong Pass Fortress, and Jiayu Pass Fortress. There were many archery windows and gates on the forts. The fortress gatehouses were the strongest and most impregnable structures on the Great Wall.
Regrettable, in course of history this wall of great importance begin to deteriorate owing to some factors, some natural like erosion and some human. We do know that man in its quest to conquer its environment distorted a lot of heritages handed down from antiquity. This reality saw 30% or more of the Great Wall gone. But Chinese government in its own wisdom in restoring and protecting the wall from further loss has taken measures to guard it. There are laws to protect the Great Wall and funds for protection, restoration, and maintenance. Even ordinary Chinese are not left out as they have a great role to play; they plant trees to keep the Great Wall slopes protected from erosion and they forbid littering and graffiti. Individuals don't damage or take bricks home from the wall as it is illegal and can attract punitive measures.
Apart from showing China's culture of national pride, grand projects, and determined resistance, the Great Wall depicts China's extravagant architecture and creativity. During the construction of the Great Wall, there were many interesting legends and myths, such as Meng Jiang Nü weeping over the Great Wall, a sad but romantic love story set in the Qin Dynasty.
"After the Great Wall opened to the public as a tourist attraction, hundreds of millions of visitors have been to its various sections. Badaling section is the most visited section. In peak seasons, the visitor flow can be up to 80,000 per day.
"Every year, more than 10 million people flock to the Great Wall of China, making it one of the world's most popular tourist attractions. In 2013, 10,720,000 tourists visited the Badaling and Mutianyu areas of the wall.
In 2013, some 10,720,000 tourists visited the Great Wall of China, making it one of the world's most visited tourist attractions" our guide noted.
One of the most popular places to eat near the Great Wall is Commune by the Great Wall — a collection of ultra-modern villas, restaurants, and amenities. At the Commune's Courtyard Restaurant, diners hungry from a day of sightseeing can enjoy regional Chinese cuisine.
At the Terrace Lounge — also part of Commune by the Great Wall, tourists can drink cold beverages while admiring the view of the Shuiguan Mountains. Some individual also sell capes and shirts with inscription "I Climbed the Great Wall".
I got to know that the best times to visit the Great Wall of China are the first weeks of May and October just like we did. This is because there are many holidays during the period and people would want to recreate. True to this, we met massive crowds who were very friendly. My visit to Great Wall exposed me to the humanity of Chinese people. I told my fellow African brother that this is a place people love their neighbors. Everybody was concerned about other person's wellbeing. As an African in the midst of Chinese and other nationals, i got a lot of gifts from them especially children who were always asking me to sign autograph and snap picture with them. It was all fun and the memories were all good.
"During the winter, the Great Wall is blanketed in snow and the number of tourists will drop dramatically" the man hawking cap told me.
Indeed, Great Wall is a perfect day trip for travelers in China. One should at least spend one full day for sightseeing around it and excursion to the wall. The wall is very long and one should pick a part of the wall that best suits his needs and interests. Some should go through Jinshanling when you want more adventure while people with less adventurous spirit may want to stick with the more accessible Mutianyu section. The three-minute-long toboggan ride from the top of the eastern end to the bottom is something to experience when next you visit China.
Although, we were not charged any fee as we are guests of China's Ministry of Commerce, but was told that it was 30 TO 40 RMB for general admission. Other services you may wish to explore can attract more payment. This is really a money spin for China Tourism authority and Nigeria can borrow a leaf from this by developing its tourism potentials for national growth and sustainable development.
With what I saw and experienced while climbing the Great Wall, I totally agree with the founder of modern China, Chairman Mao that, "The one who did not climb up the Great Wall was not a real man." Finally became a man!!!"
Ochiaka Ugwu just returned from China after a 3-week-Training.