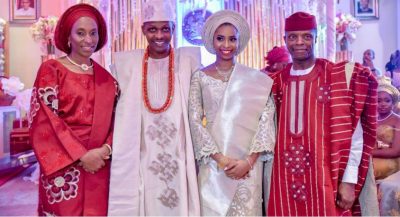 By Lawrence Olaoye
Journalists were barred from the Conference Centre, Presidential Villa venue of the betrothal ceremony of Vice President Yemi Osinbajo's daughter, Damil
ola to Oluwaseun Bakare.
Official activities at the Villa experienced an unprecedented lull with President Muhammadu Buhari out of town in Niger state on official duty.
The news of Damilola Osinbajo's engagement to Bakare emerged on social media during the week.
The Vice President later confirmed the marriage on his Twitter handle where he thanked God for the betrothal of his daughter.
He had written: "With joy and praise to the Lord, Dolly and I announce the betrothal of our daughter Oludamilola Osinbajo to Oluseun Bakare."
Accredited Villa correspondents have earlier been warned by security aides to the Vice President not to go near the Conference Centre venue of the event as it was not meant for coverage.
According to the message from the security aides, the Vice President and his family had already contracted the entire publicity of the traditional wedding and the white wedding which will take place on Saturday to a private company.
It was made so secretive that guests were said not have been allowed to go into the hall with their cell-phones ostensibly to prevent them from snapping photographs with them.
It was gathered that some to governors who graced the occasion were not even allowed to go into the hall with their handsets.
The white wedding has been scheduled to take place at the National Christian Center, Abuja, on Saturday and another reception for guests will be held at the State House Conference Center.
Investigations also revealed that security personnel assigned to guard the venues of the ceremonies were warned not to take photographs with their phones or other electronic devices.
Two main packing lots of the villa, the Pilot-Gate Car-park, popularly known as Forest and the Banquet were left empty for only visitors who attended the reception ceremony.
As members of staff struggled to find alternative parking spaces, there was traffic gridlock for hours within the main entrance of the Presidential Villa.