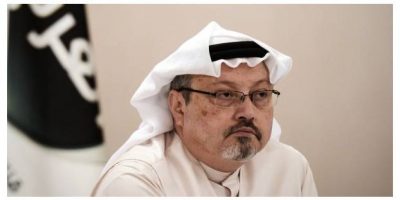 By Kareem Itunu Azeez
Jamal Khasoggi was an Arabian journalist, and Washington post columnist, murdered at the Saudi Arabia consul in Turkey, his body was thereafter, dismembered as reported by various news stories, this was as a result of latest updates, concerning the news.
The world watches on, as the culprits or any suspect is yet to be condemned, even though there seems to be a penalty by hanging, as proclaimed by the crown Prince of Saudi Arabia, king Salman, but to the media practitioner out there, in Nigeria where everything is right, and where some people seems to be above the law, what is the indemnity and premium place on the current lives of those in line bridging the gap between the government and the people, the rich and the poor, the educated and the uneducated, particularly in Nigeria.
Jamal khasoggi, a Washington post columnist, although has sparked various world outrage, concerning his murder, the United Nations which has stepped in by first sanctioning about 17, individuals who are assumed to be suspect of the said muder, would also likely cut some economic ties with the country, if necessary measures aren't taking, in the right direction, as Aljazeera reported "The Saudi officials we are sanctioning were involved in the abhorrent killing of Jamal Khashoggi," Treasury Secretary Steven Mnuchin said on Thursday.
"These individuals who targeted and brutally killed a journalist who resided and worked in the United States must face consequences for their actions. Here back home, – When Dele Giwa met his end, there was chaos, and few murmurs, around, but nothing really came out of the tragic system set to investigate those behind such act, there are hundreds of others, who have gone through thesame vein, I call them the martyrs of freepress. Statistically, year 2017, recorded, 46, number of journalists who in one way have met their end, according to the Committee Protecting Journalists, (CPJ), based in the United kingdom, currently 43, journalists have died worldwide in the year 2018 so far, , this data is simply based on reported cases of journalists deaths, how about the ones not reported, or heard of, and who have died in the course of their duty, my own statistics based on observations, might have no basis, but even journalists covering issues locally are yet, still be assaulted.
In Nigeria alone, according to the International Press Center, IPC, Nigeria unfortunately seems to be ranking high, among countries where freedom of the press and expression, is no longer guarantee, they therefore, release names of people who have either died or been assaulted for the past one year, this list have been spread across, by various media outlets, this names include:
1. Jerry Edoho of Ibom Nation Akwa Ibom State: He was picked up in Uyo by police personnel from the Force headquarters in Abuja on January 6.
2. Nsebiet John of The Ink, Akwa-Ibom State: He was detained for a night in police cell, arraigned and granted bail to the sum of N250,000 on January 6.
3. PREMIUM TIMES, Abuja: The premises was invaded by armed police officers on January 19.
4. Dapo Olorunyomi, Publisher, PREMIUM TIMES and Evelyn Okakwu, Judiciary correspondent: Both were arrested by armed police officers on January 19.
5. Godwin Aliuna of National Mirror, Ebonyi State: He was attacked by alleged armed robbers in his residence on February 22.
6. Famous Giobaro, journalist with Bayelsa State-owned radio station, Glory FM 97.1: He was shot dead by suspected hired assassins on April 16.
7. Samuel Nweze, Publisher of the People's Leader: He was shot by gunmen in front of his office in Abakaliki on June 2.
8. Charles Otu of the Conscience Newspaper: He was beaten to stupor with dangerous weapons and later abducted by suspected political thugs in Abakaliki on June 2.
9. Lawrence Okojie of Nigerian Television Authority, Benin: He was shot dead by gunmen at 8 p.m. while returning from work on July 8.
10. Amadin Uyi of Silverbird Television, Abuja: He was brutalized by police officers during the protest by Ourmumudondo group at Unity Fountain in Abuja on August 8.
11. Segun Salami of Channels Television, Kogi: He was battered at the state house detention centre by security personnel attached to Kogi State government house on August 28.
12. NUJ secretariat, Abia State: Invaded by Nigerian soldiers of Operation Python Dance on September 12 during which some journalists were assaulted.
13. Wale Odunsi, an editor with Daily Post (online publication): He was reportedly attacked by security officials at the Kogi State government house on October 11.
14. Ikechukwu Ibe of the Daily Trust Newspapers: He was allegedly brutally assaulted by an Army captain at Jabi area of Abuja on October 26.
What therefore does the future hold for the upcoming journalists,of this era, who learn fast the trade, and who are quick to make decisions, and are some way open to the brown envelope syndrome, they kill off stories once they have been spoonfed, and tragically, todays youthful journalists are not just afraid but are also carried away by the news from the entertainment fold, "Who journalism help" is now the mantra, from different young journalists across the different places hae been to, and while engaging them on their prospect in the future, and sadly incident like that of khasogi even dent the hope the more.
I therefore wonder what the hope of Journalism looks like, here the most populous black country.
Kareem Itunu Azeez is a Public Affairs Analyst.