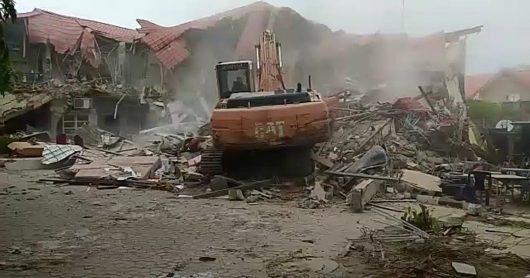 …We rely on them to feed our families- Monarch cries out
By Stanley Onyekwere
In continuation of its enforcement drive, the Development Control Department of the Abuja Metropolitan Management Council (AMMC) yesterday commenced demolition of shanties and other illegal structures in Jabi District of the nation's capital.
In particular, officials of the Department accompanied by security operatives stormed the area popularly known as Jabi Yakubu with bulldozer and removed the structures such as; shops, kiosks, restaurants, bars and makeshift residential buildings in the area.
Also, the city managers warned allottees of undeveloped plots in serviced areas (areas provided with critical infrastructural facilities) to develop them or risk revocation.
Speaking during the exercise, Director, Development Control Department, Town Planner, Muktar Galadima, said the received complaints over unauthorised occupation on allocated land, and after several meetings with the indigenous community resolved to clear all shanties in Jabi District.
Galadima who led an enforcement team to remove the shanties, decried rate of shanties in the Federal Capital City.
He adds:" the issue of shanties has become a kind of haven for the people of underworld, which is why we have to remove them.
"We have two issues attached to that one is the issue of shanties and then secondly, we received a complain over occupation on allocated land.
"If you recall towards the end of 2019, we carried out similar exercise at Gwarinpa; and today we are in Jabi, and we will continue like that from one district to another where we have high concentration and or presence of some of these shanties or illegal structures."
Galadima explained that as part of efforts to ensure smooth exercise, indigenous community would be resettled permanently, to enable land allottees develop them.
According to him, the Department of Development Control will liaise with the Department of Resettlement and Compensation to come up with modalities on how to go about the resettlement of the indigenous community.
"And then the allottees of those plots will be adviced to move in and develop their land; and failure to that we will recommend revocation of those undeveloped land."
Meanwhile, reacting to the development, the Chief of Jabi, Alhaji Yakubu Auta opines that
" We relied on these shanties to feed our families, pay our children school fees and provide them with basic necessities of life.
"All our lands have been taken over by the FCT administration and we left no piece of land to farm."
The Monarch however, appealed to the FCT Administration through its Department of Development Control to give them more time to relocate to their new area.
The Monarch also called on the FCTA to ensure speedy conclusion of its resettlement exercise, to enable them resume their normal activities.