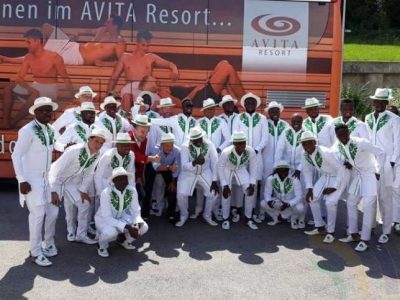 By Amaechi Agbo
Designer of Super Eagles Russia 2018 World Cup ceremonial outfit, Esimaje Vincent Awani has said that it took his company, GT Stitches two weeks to produce the outfit.
Speaking on a monitored radio programme, the Delta State born fashion designer said apart from the two weeks it took them to produce the attire, it took them initial four months to come up with the actual design.
The Canadian paralegal graduate also expressed how difficult it were for his crew to get the measurement of the players in view of the fact that they were all scattered across the globe.
"After weeks of thinking, we decided to come out with the first set of super Eagles ceremonial outfit. As a designer, it is difficult to create a design from the scratch. It is easier to see an existing design and look at it and bring out something nice from it but getting a design from the scratch is a whole lot of work. It took us four months to get the actual design of the outfit before we submitted it to the NFF for approval. It was a whole lot of work indeed with a team of 7 workers.
"It will amaze you to know that the entire outfits were prepared under two weeks – from the hat to the shoes. For you to start production as a fashion designer, you must take measurement. So it was after we got the measurement that we started production.
"Getting the players' measurement was the most difficult part of the job. We sent in the design for approval in April this year but knowing the 23 players that would be going to the world cup and getting together was a big problem. The players are scattered all over the world, so how to bring them together and take their measurement was difficult. It was not easy. Luckily enough, when they were at camp in Uyo, we went there and were able to get their measurements.
"So everything was done under two weeks. It was a whole lot of work. But you know as a fashion designer, you must also train yourself to work under pressure because you have big customers who would come to you for an urgent job and you cannot turn them down otherwise you lose them.
"Designing the traditional attire is not just about supporting the team, it is about supporting Nigeria. What you need to understand by patronizing made in Nigeria goods is that whatever merchandise or product that is produced in Nigeria, you are creating job.
"One of the epidemics affecting the entire nation today is the issue of unemployment. Contributing our own quota is also our own way of creating jobs for the youths.
"If you look at the Nigeria Bureau of Statistics, it put the unemployment rate in the country at 14.2% which was a rise from 13.9% as at last quarter. This is the 9th consecutive quarter that it has been on the rise. So we are looking at the possibility of eradicating unemployment in the country. That is the main reason we said lets contribute our own quota by creating jobs for Nigeria and at the same time establish our brand to the world," Awani said.
Awani who said his company, GT Stitches is two years old in the fashion industry, added that he went into fashion designing due to his passion for fashion and advised upcoming designers to be focused in actualizing their dreams.
"There were other competitors but GT Stitches got the nod. We are pretty new. To be honest, this is our second year in operation. GT Stitches came into existence in November 2016. That was when the preparation for establishing the brand started. We have been in business for about two years.
"Prior to the establishment I was out of the country for a time; I lived abroad for 9 years. I graduated as a paralegal person in Canada, practised for about 6 months and decided to come back to Nigeria because I have so much confidence in this country and also know that Nigeria has enormous opportunities for its citizens.
"I then decided to start the fashion business because of my passion for fashion. Although growing up my mother was a seamstress but it was my passion for fashion that drew me into the business.
"The production of the outfit was done in collaboration with other brands. In fashion business, you need to delete or erase individualism. You cannot do it all by yourself alone. So I created the entire design but I had to bring other people into the production.
"The shoes were actually done by a Lagos-based foot wear company owned by a youthful Nigerian. The hat was put together by another company. So it was a collaboration of Nigerian companies that actually made it possible but the entire design was done by GT Stitches. I designed and gave them and they did the production of the shoes and the hats.
"My advice to the upcoming designer is that you need to believe in your dream and passion; stay focused and you must also understand that the fashion business is a very powerful industry. It determines the trends and direction in which the country moves towards.
"So there are enormous opportunities to tap in and the value chain is a lot. You can position yourself from production to sales.
"You just have to be focused. It is a big market and a huge opportunity. It is also one of the most effective ways to industrialization.
"I will encourage a lot of Nigerian youths to venture into fashion designing because it is not capital intensive. If you possess a sense of artistic sensibility, it will be easy for you to just create sketches and once you have the prototype of the design, already established design can patronize you. You can do sketches and sell, you can start from there. So fashion is a big and open market for everybody," he concluded.