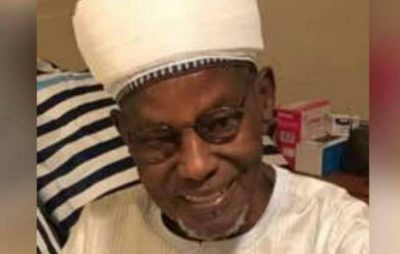 The name Sheikh Isyaku Rabiu undoubtably rings a bell in Kano and beyond.Though writers prefer the identity "Isyaku", ordinary folks call him "Isyaka". He made himself ever present in the psyche of most Kano people not for anything but Islamic scholarship made possible by his passion for the recitation of the Qur'an. His work in the pursuit of his passion and indeed the propagation of Islam led to his choice as the Khalifa of the biggest Islamic sect of his time- the Tijjaniya Movement .
Corollary to these accolades, are his ever-busy schedules at Islamic gatherings where he never fails to demonstrate his love for the Holy Book by reading it loud to the admiration of all.
He was born in 1928 to the family of Muhammad Rabi'u Dan Tinki, a Qur'anic preacher from Bichi in Kano State. His father had established the Qur'anic School in Bichi, which he attended at an early age, from 1936 to 1942. His hunger for further education in Islam took him to Maiduguri and later Zaria where he spent years studying the Qur'an and Arabic language. He then returned to Kano in 1949 as an accomplished, independent Islamic Scholar with large followership. He was named Khalifa of the Tijjaniya Movement In Africa founded by Sheikh Ibrahim Inyass as a result of his outstanding contribution to the spread of Islam in Nigeria and Africa.
His massive support and leadership role in the group led to his recognition as the Khadimul Qur'an (the servant of Qur'an).
Khalifa Sheikh Isyaku Rabi'u was a remarkable man with multiple talents. Still an instructor in Islamic education, he ventured into private enterprise in 1950 and established the company, Isyaku Rabi'u and Sons, in 1952. The company started as an agent of UAC, trading in sewing machines, religious books and bicycles. The major breakthrough for the company came in 1958 when Kaduna Textile Limited was established and it was appointed one of the major distributors.
As an innovative businessman, he joined other businessmen from Kano to form the Kano Merchants Trading Company, which held its own against even older foreign consortiums.
His family holding company invested in manufacturing with their first outfit, the Kano Suit and Packaging company established in 1970 to produce suitcases and handbags. This novel investment was carried out as a joint venture project with Lebanese investors.
Along the line, he also established the Bagauda Textile Mills specialising in producing cloths for uniforms, went into frozen food service, real estate, insurance, sugar and a motor vehicle and parts distribution company with specialty in Daihatsu products.
However, with the unfavourable exchange rate of the Naira against the dollar, the company scaled down its manufacturing operations and returned to its more familiar trading roots.
The remarkable quality he had besides business was his social pedigree. He was particularly fond of his old friends and relations from his earlier days as an itinerant Qur'anic student and preacher and was generous to all and sundry. He was also a man of great humour who made sure his visitors were always happy.
Khalifa Isyaku Rabi'u also demonstrated love for Nigeria and in the Second Republic, went out of his way to join the National Party of Nigeria (NPN) which eventually won elections in the Second Republic to lead the country. In times of serious crisis, the Khalifa would summon Qur'anic reciters and other religious leaders from all over the country to offer special prayers for the peace, prosperity and progress of Nigeria.
He will be remembered as a community leader and a patriotic nationalist, a successful merchant, and accomplished industrialist.
His wives, 42 children and several grandchildren have definitely survived him. Among them are the famous Nafi'u Rabiu; Abdulsamad, chairman of the BUA Group and Rabiu, head of IRS Airlines.
May his gentle soul rest in peace, Amin.