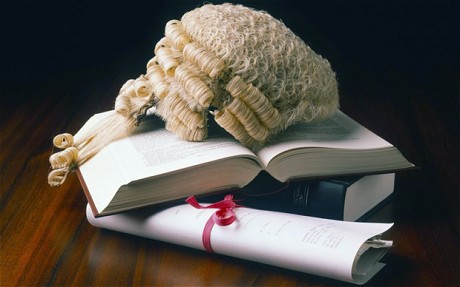 By Abass Mohammed Oluwatosin
We live in an ever expanding information society, in an era where global computer networks, mobile telephony and digital audiovisual transmission are essentially the basis of functioning and smooth running of the society. Law is one of the fields of study that must move ahead or at least along with changes in lifestyle, culture and technology.
Apparently in Nigeria this change in the law appears rather tardy, especially in the adoption of information and communications technology (ICT) compliant laws. Taking into consideration the fact that technology has advanced the customary way of life in Nigeria, it becomes quite a necessity that the law and the teaching of law in Nigeria must move accordingly. One of the ways this can be done is by developing a course of study that aggregates the impact and implications of ICT in areas like forensic, commerce, e-governance, Intellectual Property and Contract Law into one study unit, to wit Information Technology Law. At present the changes brought about by the use of technology can be seen in law, legal education, research and practice. For instance, students, researchers and lecturers can in the comfort of their study tables access millions of research materials online including laws and judicial decisions of Nigeria and other jurisdictions. Also the ICT industry is one of the fastest growing sectors in the economy. Latest trends show that the ICT sector is gradually taking the place of oil as a major contributor to Nigeria's Gross Domestic Product (GDP). According National Bureau of Statistics (NBS), the second quarter of 2018 GDP report provides that the ICT sector recorded 11.81 per cent growth, while the oil sector contributed 8.55 per cent to Nigeria's GDP in the second quarter of 2018, down from 9.61 per cent in the preceding quarter.
All these raise several legal implications that need to be fully addressed and understood by lawyers and judges in Nigeria relying on outside expertise and the best place to start this transformation and readiness is the classroom. The need for this readiness and transformation is further buttressed by the fact that there are still other areas that need to adapt to these developments. A good knowledge of the legal implications of ICT to our laws will help in the adaptation of our laws. For example our Copyright and Trademarks Laws have no provision for domain name registrations, company code and the likes. Internet crimes like Cyber-crimes including hacking of accounts, cyber-squatting, etc., are yet to be properly covered. Our commercial laws did not contemplate electronic transactions and e-commerce – buying and selling through online stores like Ali express, Konga, Jumia, Kaymu, and OLX. Information technology has unarguably brought the markets to the rooms of prospective customers; making commerce easier and less cumbersome. One can simply surf through an online market store, select the desired merchandise, place an order online or via phone call, and in a couple of days have the goods delivered to one's door steps. In the 2015 elections, the impact of information technology in the voting and accreditation of voters. The card reader changed the way elections are run in Nigeria.
The use of electronic card readers for voters' accreditation drastically reduced electoral frauds to the minimal, indeed each voter was assured that his vote cast will count; but we are yet to attain electronic voting as a viable electoral option. In our film industry, information technology has aided in promoting our home made movies on the international scene. YouTube, Instagram and movie websites and apps like Netflix, IrokoTV, IbagaTV, ApataTV make our movies accessible all over the world. The talents and cultures of our people are thereby promoted and this inevitably attracts foreign investments in the tourism and culture sector including the Nollywood film industry. The above are only but a few examples of the impacts information technology has had on different spheres of our lives. In law practice, the impact of information technology is very obvious. Law reports, Laws of the Federation of Nigeria, case management, law materials, etc. are all accessible online. They are also easier and faster to access and more updated than the hard copies. In proceedings before the court, information technology has made a lot of impact. Court proceedings are conducted faster where the judge employs a stenographer skilled in the use of computer and recording compared to where the judge resorts to handwriting.
It is against this backdrop, therefore, that we must recognize the dynamics and importance of information technology in our everyday life. We, therefore, posit that there is an urgent need to develop a full-fledged course on information technology law in Nigeria and not a hotchpotch of its rubrics spanning across several courses. The aim therefore, is to analyze the impact made by information technology with respect to the Nigerian legal environment, laws, legal practice and legal education. Based on this evidence and the need for law and legal profession to maintain pace with the technological developments, a propose course on Information Technology Law as one of the law courses taught at the undergraduate level in our various Faculties of Law.
Recommendations on how to Resolve the Challenges The following recommendations are made:
The Electronic Transactions Bill should be seen as a priority.
Legislations should be made to apportion liability where necessary in relation to ATM card frauds. Our criminal laws should be expanded to accommodate cyber-crimes.
Intellectual property laws also need amendments to reflect actions and infringements that can occur with the use of information technology. i.e Cyber act 2015
b. Institutions should make available information technology devices for their students so that the students can learn in tandem with the modern realities. Students should not only be taught the theories, they should be given opportunity to practice what they are taught.
c. The Nigerian Bar Association should adopt a base for the usefulness of ICT in the legal profession. Also, the General Council of the Bar has to take another look at the
Rules of Professional Conducts for lawyers that prohibit advertising and soliciting and make regulations for the use of websites for adverts. This is because, although the Rules of Professional Conduct prohibits advertising except in certain instances, nevertheless, the activities of some law offices, chambers and legal practitioners on the web are tantamount to advertising.
d. Nigerian Universities should upgrade their libraries to e-libraries and provide for forensic e-clinics. This can be facilitated by Tertiary institution trust fund.
e. Law faculties could reach out to IT companies for funding to help establish the course: companies like Microsoft Nigeria and telecommunications companies like MTN and
GLO. They use this medium to fulfil their corporate social responsibility. It will also aid in their business if there is understanding of the applicable law to their business activities. Private-public partnership in the funding of ICT centers, grants, scholarships should also be encouraged. Establishment of ICT universities, engaging of foreign experts all over the world as lecturers both in the subsisting and new ones.
g. It is high time information technology should be considered as part of the criteria for appointment of judicial officers. They need to be made aware of the potentials and mechanics of information technology. For example, a good percentage of business is done online and also information technology is being exploited by criminals in all sorts of crimes including fraud. Accordingly, judges ought to be ICT literate to be able to adjudge the veracity and weight of evidence adduced in court. Again, judicial proceedings in court ought to be fully video-recorded and may be transmitted live to avoid delays in the judicial process and mistakes in records. Stand-by generators should be put in place in the event that power supply fails.
h. Government should continue to show interest in information technology. This can be done for example by the provision of ICT centers in all universities; making Nigeria ICT compliant by inviting more investors and making the economy conducive to competitors; by installing broadband cable in all parts of the country. Without such positive steps and requisite political will on the part of the government, there will be no meaningful impact or landmark.
Conclusion
The world in this 21st century has seen an unprecedented transformation with the emergence of ICT and its constant innovations and improvements. ICT seems to have pervaded and permeated every facet of life in today's world. There is hardly any layer of human interaction, relationship or endeavor that ICT has not directly or indirectly affected in Nigeria. Given these fact, it follows that the law and the development of the country's legal system must as a matter of urgency and necessity adapt to these realities of ICT revolution. The law needs to respond and adapt to the ICT revolution. Information technology has greatly contributed to the growth and national development of this nation in various areas. But its further potential can only be imagined. To fully benefit from this growth and management of trade disputes that will follow, we must prepare our lawyers and judges by providing them with up-to-date knowledge of internationally accepted laws and regulations on ICT related transactions. The development, introduction and teaching of ICT law in Nigerian law faculties is a good place to start.
Abass Mohammed Oluwatosin writes in from Lagos.