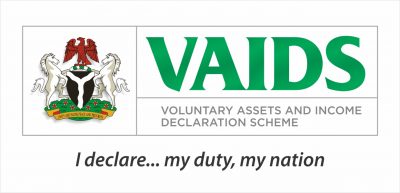 From Ngozi Onyeakusi, Lagos
Nigeria Council of Registered Insurance Brokers (NCRIB) has commended the Federal Government on Voluntary Asset and Income Declaration Scheme (VAIDS) aimed at encouraging voluntary disclosure of previously undisclosed assets and income for the purpose of payment of all outstanding tax liabilities.
The President of NCRIB, Shola Tinubu who gave the commendation in a forum Lagos said, "Permit me to use this medium to identify with this lofty idea of government on the VAIDS.
We are all aware that there no nation that could attain economic buoyancy without exploring taxation as a key revenue option of government", he said.
According to him, most modern economies were buoyed on effective taxation adding that Nigeria's could not be an exception. He called on the government to live up to fiscal responsibilities .
"However, it would be apposite to stress that it behoves government to live more to its fiscal responsibility when adequate compliance is received from the people and institutions.
When the confidence level is enhanced, payment of taxes would no longer be seen as a burden but a cardinal responsibility to be discharged by the citizenry.
"When you see people in Europe giving attention to what their leaders are doing or what they are saying and how they spending money is because nearly every working person pays some tax however how little to ensure that as many people are in the tax bracket and they are therefore bordered about what is happening, about whether the government is spending their money right, about whether the people are stealing their money.
"When people are not taxed, that is when people have nothing coming out of their own pockets to the government, there is tendency for them to think that the government is doing them a favor, and I believe this is where you see all these wavers, but to enable compliance they now say let us give a waver, let people come in, wave penalties, wave interest and they will voluntary declare assets and income", he assured.
Recall that on 29 June 2017, the Acting President, Prof. Yemi Osinbajo formally launched VAIDS, a scheme which commenced operation on 1 July 2017, and to be lasted for a period of 9 months.
VAIDS is an initiative designed to encourage voluntary disclosure of previously undisclosed assets and income for the purpose of payment of all outstanding tax liabilities.
The scheme was implemented by the Federal Inland Revenue Service (FIRS) in collaboration with all 36 State Internal Revenue Services and the FCT IRS.
Government would gather intelligence locally and through various international conventions and multilateral agreements to obtain information required for prosecution of defaulting taxpayers or those who make false declarations.