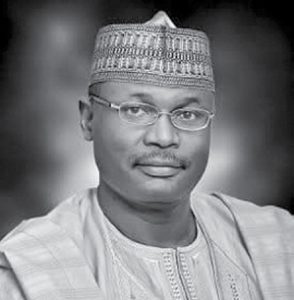 Professor Mahmood Yakubu's first term of 4 years as chairman of the Independent National Electoral Commission (INEC) expires Nov. 9. However, President Muhammadu Buhari in October recommended a second term for him. In a letter to the President of the Senate, Ahmad Ibrahim Lawan, the President said, "In accordance with the provision of Section 154 (1) of the Constitution of the Federal Republic of Nigeria, 1999 (as amended), I am pleased to present for confirmation by the Senate, the nomination of Professor Mahmood Yakubu for appointment as Chairman, Independent National Electoral Commission (INEC) for a second and final term."
Yakubu was first appointed by Buhari in November 2015. If his re-nomination is confirmed by the Senate, it will make him the first INEC chairman to get a second term in office. In his first term, Yakubu conducted one presidential, parliamentary and 32 governorship elections in 2019; two off season governorship polls in Bayelsa and Kogi states in Nov. 2019; two others in Edo and Ondo in September and October, 2020 respectively.
Yakubu also opened up the political space. Twenty eight out of 30 registered political parties participated in the 2015 general elections. Between 2015 and 2019, INEC registered 91 parties out of which 73 contested the 2019 general elections. One more political party was registered after the polls via a court order. Many more Nigerians have been put on the voter register through the Continuous Voter Registration (CVR) introduced April 27, 2017 and August 31, 2018. The number of registered voters rose from 69,720,350 to 84, 004, 084, a hefty 14 million jump. Whether or not all do vote eventually is another matter. The next CVR comes up next year.
One thing, however, fetched Yakubu and INEC a lot of flaks. It is their insistence on the use of the Smart Card Reader (SCR). According to him, "the SCR has come to stay" and "it cannot be jettisoned or abandoned. Rather, the Commission will seek ways by which its utility in elections can be enhanced for the triple objectives of verification of the genuineness of the Permanent Voter's Card (PVC), confirmation of ownership and fingerprint authentication of voters." The problem with it is that it often fails when it matters the most.
Another is that it has no constitutional backing yet. A recent Supreme Court judgement that emphasized the primacy of the voter register as the determinant of over-voting in law is a problem for INEC. Politicians tend to reject it whenever it does not favour them. However, Yakubu believes the judgement "merely draws attention to the lacuna in the electoral legal framework which must be addressed through immediate and appropriate amendment to the Electoral Act. The commission will present a proposal to the National Assembly on this matter as well as other areas in which further deployment of technology will deepen the integrity of our electoral process." It has a lot of time on its hands to do this. The next general elections are not due until 2023.
Warts and all, INEC under Yakubu has shown that it is not afraid to take actions to improve the credibility of the electoral process. At the same time, it has not closed its eyes to constructive criticism of its own failings. Both courage and flexibility have stood it in good stead. Its performance has improved considerably election after election as shown in Bayelsa and Kogi in 2019 and Edo and Ondo this year.
The political opposition has accepted, surprisingly, Yakubu's re-nomination. A Coalition of United Political Parties (CUPP) has congratulated him on his reappointment as the INEC chairman. The CUPP in a recent statement issued by its spokesperson, Ikenga Ugochinyere, in Abuja, described Yakubu's reappointment as "the only chance for him to set Nigeria's electoral processes on the right path." It urged him to "use this second term appointment, which is novel in the political history of Nigeria, to cleanse our electoral process and consolidate on the gains of Edo and Ondo elections. Nigerians will expect nothing less than a very credible, free and fair 2023 general election from him." Here, Yakubu has his work cut for him. He, no doubt, will need the support and prayers of all Nigerians