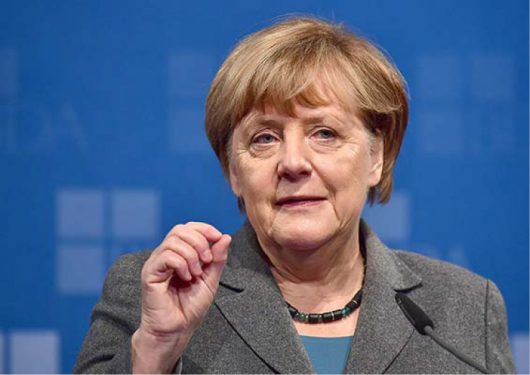 Guest Columnist by Ayobami Akanji
Always aim high, work hard, and care deeply about what you believe in – Hillary Clinton
Nigeria played host to two of the world's most powerful women, last week. Theresa May – the British Prime Minister visited – coincidentally thirty years after former Prime Minister, Margaret Thatcher visited Nigeria; such an historic coincidence.
The Chancellor of Germany, Angela Merkel came two days after. It is important to note that the German Chancellor's visit to Nigeria added to the number of important world leaders who came knocking in the past two months.
Indeed, looking at the tyranny of expectations millions of Nigerians had for the incoming administration, laced with a progressive mindset that anchored the campaign and finally the election of President Buhari; it permeated throughout the country and extended abroad.
The not so good reputation we had in the eyes of the comity of nations, in the past, had been corrected and replaced with a sharpness for which cisterns are being constructed to house its praises.
In this regard, we would be analyzing what Nigeria stands to benefit from Prime Minister May and Chancellor Merkel whistle-stop visits. Already in existence between both countries, Nigeria and Britain share a substantial long-standing relationship bordering on economic partnership and military training.
However on the security front, a defence strategic partnership first of its kind was signed between both countrys' National Security Advisers, which would see the Nigerian Armed Forces receive specialist equipment and strategic training to counter the use of improvised explosive devices by Boko Haram.
The Uk will train, for the first time, the Special Forces units collectively and they would be deployed to the theatre of operation immediately, unlike in the past when such training was done in silos.
This would enable them wage a destructive war against the struggling insurgents in the north-east, it should be highlighted that, in the past three years, 30,000 Nigerian personnel were trained by the British Armed Forces and to compliment this agreement – an emergency response hub modeled after UK's COBR (Cabinet Office Briefing Room) a crisis system, where the President and his security team can follow how forces in the theatre of operations deal with terrorists.
Moreover, a £13 million programme to educate 100,000 children living in the affected areas, whose teachers have fled and schools destroyed would be provided in addition to equipment and teacher training. Migration also got the required attention, as 10.5 million British pounds was earmarked to help victims of modern slavery and reintegrate them into the society. To buttress her point, Prime Minister May said "We are determined to work side by side with Nigeria to help them fight terrorism, reduce conflict and lay the foundations for the future stability and prosperity that will benefit us all.''
Meanwhile, with Britain exiting the European Union, it is natural for Theresa May to look out for avenues to increase opportunities in Nigeria and other parts of Africa. Nigeria is the second largest trading partner of Britain in Africa, with a trade balance of 4.5 billion pounds annually.
Consequently, the second leg of the Mou is the Nigeria Economic Development Forum which shall enable both countries broaden and deepen bilateral trade and investment. Africa's economy is projected to grow by 3.2% and Nigeria's economy has a significant part of the growth. Prime Minister came with top executives of British companies who would be partnering with local firms in various sectors of the economy such as, water technology, energy, transportation, and create an avenue for funds to Nigeria's Small and Medium Enterprises.
In the same vein, another key component of Mrs May's visit was the resolve to have a civil asset recovery taskforce to help Nigeria recover stolen assets held in the UK. This is another partnership that would favor the Buhari administration. Before Prime Minister May visited, the British High Commissioner announced the repatriation of 70 million pounds to Nigeria retrieved from an ongoing investigation in Italy.
President Buhari has been consistent in his fight against corruption. He activated various mechanisms, such as the Treasury Single Accounts, eliminating thousands of ghost workers, the whistle-blowing policy, making Nigeria a member of the Open Government Partnership, and just recently the signing of Executive Order 6.
These all attest to his profound commitment to stamping corruption out of Nigeria.
Consequently, Chancellor Merkel's delegation included experts on energy, digitalization, infrastructure and agriculture who signed agreements with NIRSAL the lending arm to farmers and PETKUS a formidable leader in mechanized agriculture. Volkswagen signed an Mou to turn Nigeria into the automotive hub of West Africa which shall expand the automobile market in the region and across the African continent.
Nonetheless, President Buhari has been steadfast in his commitment towards creating awareness to the shrinking of Lake Chad Basin by over 90%.
This area been identified as one of the most dangerous trouble spot in Africa, and Germany has heeded to such appeal by committing resources to recharging the Basin. Germany has been supporting the stabilisation forum for the Lake Chad basin via a diplomatic approach to this climatic challenge. An international conference on prevention and stabilisation was held in Maiduguri early this year with participants from countries of the Lake Chad, which comprises of Cameroon, Niger, Chad and Nigeria.
Incidentally, Germany and Norway just pledged more than $150m for the Lake Chad region, and will allocate an additional $116m in humanitarian assistance at a conference co-hosted by Germany, Nigeria, Norway and the United Nations; currently ongoing in Berlin. The German government has promised to provide further $46m for security projects while the Norwegian government plans another humanitarian support of $40m for the next three years.
Furthermore, President Buhari is attended the Forum on China Cooperation in China, this renewed interest from different world super powers, states unequivocally that Nigeria – again is on the cusp of greatness.
Akanj, a political analyst writes from Abuja.