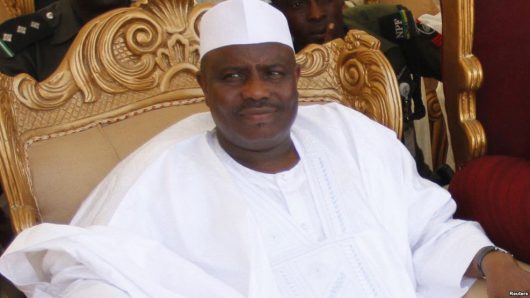 *Cautions anti-graft agencies against blackmail
From Ahmed Idris Birnin Kebbi
Sokoto State Governor and a People's Democratic Party (PDP) presidential aspirant, Aminu Waziri Tambuwal has said that despite all odds trailing his presidential ambition by the All Progressives Congress, APC, he dares the anti-graft agencies the Economic and Financial Crimes Commission, EFCC and the Independent Corrupt Practices Commission,ICPC, to challenge him if they feel he has questions to answer instead of resulting to cheap blackmail and unnecessary intimidation.
Addressing his party supporters yesterday at the PDP Secretariat in Birini-Kebbi, the PDP presidential hopeful disclosed that the two anti-graft bodies have become institutions of APC to intimidating the opposition parties, adding that his is ready to face any allegations that APC may level against him.
Tambuwal who accused the Buhari led federal government of not being able to tame the upsurge of insurgency (Boko Haram) in the North-East despite beating its chest to have degraded them, said cases of insurgency is seriously going on in Borno, Yobe, Adamawa, Taraba States among others, including Zamfara and Sokoto States.
He lambasted the Buhari administration for increasing poverty in the country pointing out that despite Kebbi State calling herself the rice hob of the nation, having two rice milling plants, a bag of rice is still sold for N15,000, making the commodity extremely out of the rich of common Nigerians.
He assured therefore that if elected as President of Nigerian, the country's economy will improve tremendously
The Sokoto State Governor accused the APC led Federal Government of smuggling immediate past Finance Minister out of the country after she was discovered to have indulged herself with irregularities and corruption tendencies involving her NYSC scandal.
The PDP aspirant who assured Nigerians that if elected as a President his administration would fight corruption and reduced the security challenges been faced across the country as well as improving the nation's economy more than Buhari administration.
In his response, the state PDP chairman, Haruna saidu thanked the aspirant, assured him of their support and cooperation toward winning the incoming primaries.