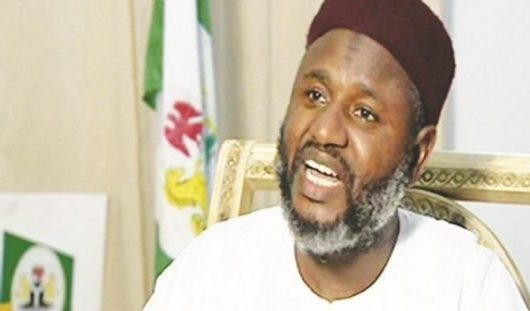 From Ahmad Mohammed, Bauchi
Former Governor of Zamfara State Senator Ahmad Sani Yeriman Bakura has expressed his interest to contest for the seat of Nigerian President in 2023 election.
Sani stated this yesterday in Bauchi while answering questions from reporters after he paid a condolence visit to the families of a renowned Islamic scholar, Sheikh Dahiru Usman Bauchi over the death of his wife and the late Prime Minister Sir Abubakar Tafawa Balewa over the death of his last surviving wife.
He said there are various political groups from different part of the country that approached him to contest for the number one seat and he asked them why are they starting it at this time they try to convince him that in America campaign for the next election started after the swearing in of the elected president "and by the grace of Allah I will contest for the seat in 2023".
He said after serving as a Governor for eight years, senator for eight years, the next thing is either to contest for a president or vice president.
The former governor said APC has set a standard of producing a presidential candidates through direct primaries and by the grace of Allah he will contest the primaries even though he does not have money.
Sani said if elected, he will fight poverty and create more job opportunities and infrastructure in order to address the basic problems affecting the socio economic development of the country.
He said he support the idea of privatizing government properties for infrastructural development like roads, electricity and so on.
" I assure you, once people have money in their hands, they will pay their electricity bills and toll gate bills for that we have to fight poverty and all its ramifications."
The former governor said President Muhammadu Buhari has done his best to the country even though every government comes with its challenges. " but I will advise the government to do more in fighting poverty and unemployment, by doing this, it will address all the problems like insecurity and other threats affecting the development of the country."
On the political tussle in Zamfara State , he said " this clearly shows that its Allah who gives power to whom he will. He gave it to Governor Matawalle under the PDP, we are one family, the present Governor is my former commissioner and because of one reason or the other they defected to PDP , but we are talking, we are discussing , we are one family in APC, we will close our ranks, we will be together in one party by the grace of Allah. "
He said he is happy the Islamic legal systems he first started is still addressing social vices like gambling, rampant beer parlors, harlots houses and many others.