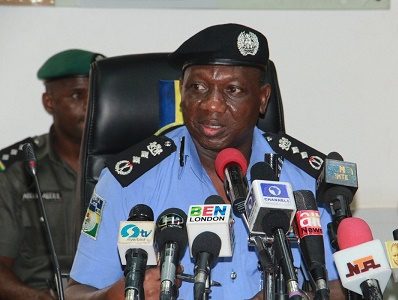 By Vivian Okejeme Abuja
Justice John Tsoho of the Federal High Court Abuja Division, yesterday, dismisses a suit brought against the Senate by the Inspector-General of Police (IGP) Ibrahim Idris.
The police chief had in the suit, prayed the court to stop the Senate President, Dr. Bukola Saraki and the Senate, from inviting him for a legislative hearing.
The Senate, had in a letter dated April 25, 2018, invited the IG to appear before it in relation to the purported inhuman treatment of the Kogi West Senator, Dino Melaye.
The letter, the Senate, also wanted some words from the IG on the unabated killings in many parts of the country, including Benue, Plateau and Kwara States.
Instead of honouring the invitation, IGP Idris, on April 26, rather delegated the Deputy Inspector General of Police (Operations) and Commissioner of Police, Kogi State, to represent him at the Senate.
But, the Senate, refused to grant an audience to the two representatives and insisted the IG must appear before the legislative hearing in person. The Senate then rescheduled the meeting for May 2, and again directed that the IGP must honour its invitation in person.
However, the police boss, through his counsel, Dr. Alex Izinyon (SAN), approached the high court, challenging the Senate's insistence on his personal appearance.
In his argument, Idris submitted that the Senate insistent on his personal appearance is unnecessary, adding that the issues he was invited for were not personal.
Delivering judgment on the suit, the trial judge held that IGP Idris has no arguable reasons for not honouring the Senate's invitation.
Tsoho maintained that the suit was only aimed at preventing the Senate from carrying out its legitimate and constitutional responsibility.
Dismissing the suit, the judge insisted that the suit amounted to an abuse of court process.
Meanwhile, the judge also withdrew from the IGP's second suit before him.
In the suit the IGP is praying the court to quash the May 9, 2018 resolution of the Senate declaring him "an enemy of democracy and unfit to hold any public office within and outside Nigeria."
Consequently, he sent the case file back to the Chief Judge of the Federal High Court, Justice Adamu Abdu-Kafarati, for re-assignment to another judge.