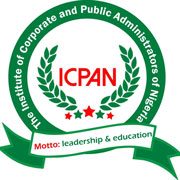 By Ochiaka Ugwu
Institute of Corporate Public Administrators of Nigeria (ICPAN) has honoured Dr. Princess Adaeze Nwaji, Special Assistant to the Governor of Ebonyi State with an Honorary Doctorate Fellowship.
The award was conferred on her in Abuja recently in recognition of her administrative prowess and her sterling qualities as the Director General of the Ebonyi State Vocational College and Special Assistant to the Governor on Vocational Education in Ebonyi State.
Nwaji who dedicated the award to the governor of Ebonyi State thanked him for giving her the opportunity and privilege to serve in his government as an SA on Vocational Education and also for finding her worthy to pioneer as DG, the skill developing college; Ebonyi Vocational College (EBVOC), were she is working hard to prove her mettle of having the administrative capacity to deliver the set goals that captures the vision and mission tenets of this unequalled vocational initiative of the government, particularly focused on the youths of Ebonyi State.
Speaking further, she said,'' It is indeed a truism, that this recognition can only be attributed to my humble selfless commitment to duty, discharging my assignment with dedicated sanguinity in consonant with the policy goals of the Ebonyi State government to build the skill capacity of Ebonyians to a hundred percent level , and am empowered to fly the initiative to its zenith accomplishment, which I am relentless working on, before the ICPAN slammed me with this passion raising award, I felt overwhelmed and flabbergasted''
The Ebonyi State Commissioner for Investment, Barr. Joe Ekumankama represented the governor of Ebonyi State, Mr. Dave Umahi.
National Coordinator of ICPAN Charles Edet (Phd) said that Adaeze's investiture showcases the quality of personnel in Ebonyi State government.
He concluded by saying that her curriculum befits the awards she has gotten.