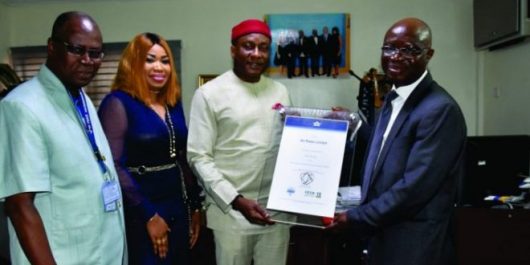 From Suleiman Idris, Lagos
The International Air Transport Association (IATA), has awarded Nigeria's leading carrier, Air Peace it Operational Safety Audit (IOSA) certificate.
The award followed a rigorous compliance and safety check exercise the global aviation watch dog body conducted on the airline as a member of the organisation.
IATA had admitted Air Peace into it fold in 2016 when it awarded the Nigeria carrier the initial certificate at a record time of two years of the airline's operations.
At a presentation ceremony in Lagos, Area Manager (South West Africa) for IATA, Dr. Samson Fatokun handed over the IOSA renewal certificate to the Chairman/Chief Executive Officer of Air Peace, Mr. Allen Onyema at the carrier's corporate headquarters in Lagos.
Fatokun described the fresh exercise as much tougher than the first audit exercise the airline's operations were subjected to.
Onyema commended IATA for insisting on strict safety requirements for flight operations, assuring that the carrier would continue to raise the bar of service in the aviation industry.
He reiterated that Air Peace is ready to receive guidance from IATA to ensure its operations always accorded with global best practices and standards.
Onyema confirmed that important aviation and corporate players across the world were amazed at the huge growth of Air Peace, which recently increased its fleet size to 24 aircraft to cater to the expansion of its domestic operations from 12 routes, regional flights to more West Coast cities besides Accra, Freetown, Banjul and Dakar as well as launch of its long-haul flights to London, Dubai, Sharjah, Guangzhou-China, Mumbai and South Africa.
Air Peace said that it has concluded plans to launch its flights to Makurdi, Warri, Nigerian Air Force Base in Port Harcourt, Kaduna and Monrovia and restart its Asaba and Sokoto services under its subsidiary, Air Peace Hopper.