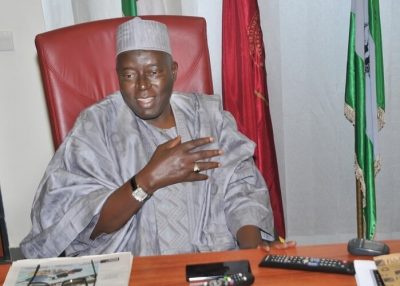 • He's unrepentant anti-party lawmaker – Gov
From Mika'il Tsoho, Dutse and Ali Alkali, Abuja
The serving Senator, representing Jigawa North-East Senator Ubali Shitu swears yesterday that he would do whatever it takes to unseat the governor of the state Muhammad Abubakar Badaru as he and his people will no longer continue to support the governor's second term ambition.
The senator, who addresses a press conference at his home town Hadejia, Jigawa State, accused the governor of running the state as personal enterprise, show by awarding contracts to only himself, wives and friends.
"I swear by Allah there is no way we would again throw our weight and support behind this man (governor Badaru) who has made the state a one man show by awarding contracts to only himself, his wives and friends.
"We are tired of his lies, stealing and deceits. We would no longer condone such a person to be our leader in the state".
The senator, who said he would go into primary elections with the governor against 2019 under the APC with the hope of changing him, said Governor Badaru wasted four years doing nothing to Jigawa State.
The senator's impasse with the governor, like many other states controlled by the APC, is getting worse despite the reconciliation efforts by the party through its leader, former Lagos state Governor, Senator Bola Ahmed Tinubu.
Senator Shitu declared that his quarrel with the governor is irreconcilable, as twelve efforts were made in the past but in all of them the governor had continued to break the earlier promises he made.
According to the senator, "The governor has turned the state to his personal business enterprise together with his wives and cronies. This, we would reject; and I will, in-shaa-Allah, engineer his replacement come 2019," he stated.
"My disagreement with Governor Badaru started in the 2015 presidential election when he insisted that we vote for former President Goodluck Jonathan, against Muhammad Buhari, which I vehemently kicked against," he revealed.
He also alleged that Governor Badaru is all out to use his position as governor to expand his business enterprise where he alone awards contracts to his friends and wives without following due process in the state.
When contacted by Peoples Daily from Abuja, Special Assistant to the governor on media, Bello Zaki, debunked all the allegations tabled by the senator against Governor Badaru.
He said the Senator is just a dawning man clutching at a straw, having lost favour with his constituents for betraying the party and President Muhammad Buhari.
"His trouble started when he betrayed the APC, the President and his people by backing and taking side with Senators Bukola Saraki and Ike Ikweremadu to emerge as Senate President and deputy against party's wish.
"Instead of him to retract his steps, he continued to insult his people by accompanying Saraki to attend his corruption trials in court. That's how he lost favour with his people. Governor Badaru's sin was washing his hands off the man and telling him to go and settle things with his constituents in his own way."
Zaki added that all the noise the senator was making is nothing but a prelude to defection to Peoples Democratic Party (PDP) as he was recently seen accompanying former Jigawa State governor Sule Lamido. He knows that his political career with APC is finished.
"We know all the press conferences he had been holding. We have all the details before the news are published. But we don't join issues with him because the governor instructed us not to answer him," said Governor Badaru's spokesman.