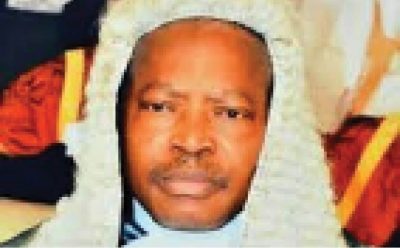 Justice Moses Bello, a retired President of Customary Court of Appeal, in this interview with Vivian Okejeme, speaks about corruption in the Judiciary and how he was able to pilot the affairs of the court.
Life on retirement
When it's time, it seems as if you want to weep, nowhere to go. I will ask myself, what is all this? I am thinking whether to start farming so that I will have somewhere to go every day. Even if it is where I will go and spend up to three hours. That is the only thing I will say I've missed. The staff, cleaners where we always joke are no more there for me.
On the alleged corruption in the judiciary
It's real. There is no need pretending about it. It is real. But the problem is that I don't like the way it is been carried about. It is very minute people, insignificant number that are corrupt but they made it look as of the entire judiciary is corrupt. There was a time i travelled out of this country and I nearly said I do not want to introduce myself as a judge. That was the period justice of the Supreme Court and Federal High Court were arrested. From the information I later gathered that one of the Supreme Court judge was just gathering what he made over the years because there are people who do that. He is still sitting at the Supreme Court. Very minute people are corrupting the system. You can't see a boy do something and you say the whole family is bad. I can say with all sense of authority that I've never received bribe in my life. The only time I was accused of receiving bribe was when a Fulani man followed me and was saying things I did not understand. When I called someone to interpret what he was saying, I was made to understand that he gave someone money and when he described the person and I went for the person. When he came the Fulani man said he gave him money so that the judgment will go in his favour. The man was asked to bring the money back to the Fulani man and was later on punished accordingly. And I told him it was not me that collected money from you ooh.
On prison Congestion
I have never been to prisons. But, I think why criminals become more hardened when you send then to prison is because of the way they are usually treated there. I even learnt they have presidents. The longer you stay there; you become the leader of the prisons. That is why I am strongly against remand and the way it is been used. People are usually remanded for longer periods for offences that would have been just three months. I thank God I never remanded anybody for more than 24 hours as a judge.
How were you able to attain this great height?
The first secret to success is that you believe in prayer whether you are a Christian or a Muslim. The other secret is your passion. What do you want to achieve in life and how do you think you can achieve it? I prayed to God to help me to pilot the affairs of customary court of appeal because I was too junior for the job when I was appointed and I was placed above my brother colleagues in the judiciary. I wanted to prove that youth achieve something. I was just or yet to be 40, so I wanted to show that I'd you put a young person somewhere, he can be humble, respectful and achieve something good and I thank God that I've been able to achieve that. If I had anything worrying me, I will call the other judges, Deputy Registrars or other heads of court and I will throw whatever it is open and try to get their views. From there I will be able to make up my mind. But if it is the issue of judgment, I will throw it back to the court, address me on this issue, once you address me, I will be able to make research. It's not known that we have so many research centres everywhere. When you make the research you write the judgment.
And I had a lot of respect for human beings, whatever your age, whether I am your senior, rich or poor but I was not afraid of anybody. This was because if I am afraid of people, I would not be able to pass my judgments.
Takes on Prisons Reforms
The Federal government should make provision for more magistrates so that people are usually sent to prisons can be released on bail. The second aspect is that they must engage social workers to engage prisoners in various training within the prisons to make them more effective so that after leaving the prison they will be useful to themselves. In developed countries, people even become graduates in prisons. Government should see prisoners as people they can reform and not people to punish. There are so many things we should do to develop this country. For instance, when you arrest corrupt people, there is no need of jailing them. Just collect their money and let's start using. That is why I like plea bargain but at the same time, they should not be the ones to determine what they will return from what they have stolen. The court should determine that so that what is left for them is so little. That way, we can get our money back.
On Magistrate's court and Magistrates Reforms
The magistrate courts can be reformed if the Chief Judge appoints a better person to be the head of magisterial division. When I was holding that position and hear anything, I will go and tell the registrar. Truly, the bad eggs there are trying to corrupt the magistrates. There were some during my time that will bring bags and I will not know that the bag is containing money. When going, they will leave the bag at the secretary's office. Then they will go and tell the person they have given me money. When I got to know about that, I called my secretary and told her that anytime they live a bag in his office, you are fired. That was how they stopped bringing money to my office. So, most of the time these monies would not get to the judge and they will tag him as corrupt. A real magistrate that wants to get to the head / peak should not allow himself to be corrupt because you don't know the one that will destroy you.