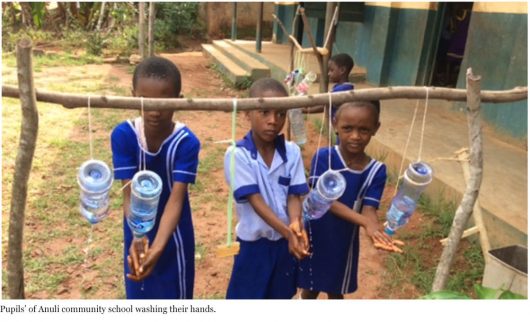 By Tobias Lengnan Dapam
The pupils of Anuli community school in Aguata local government area of Anambra state have formed a group of Water Sanitation and Hygiene (WASH), Ambassadors to ensure cleanliness in the school.
During a visit to the school by health journalists to access the impact of the United Nations Children's Fund (UNICEF) and European Union (EU) WASH project in the community, our reporter observed that the school environment was clean and their newly constructed toilet was being taken care of by the Pupils WASH Ambassadors.
The pupils in the school were taught various methods of ensuring clean environment and also to wash their hands at all times.
The project which was constructed in partnership with the Anambra state government include; water and two blocks of toilets', each containing five toilets for males' and females' pupils in the school.
Speaking to our reporter, the head teacher of the school, Nnebuchi Francisca, said the project has given the teachers and pupils' new ways of ensuring cleanliness.
"This project is an answered prayer. We all know that cleanliness is next to Godliness and this new water and toilet facilities have taken us to where we want to be.
"As you can see, this bush was our toilet. Our pupils used to dig the ground to defecate while the small ones will leave it open. This project has solved that problem and has created a new vista for the pupils and the community at large.
Speaking further about how the project improved school enrollment, the head teacher said "we used to have only 140 pupils but now we have over 300 pupils and still counting. Every semester, our enrollment increased and many parents are happy with this development.
"Before now, children bring water to school to wash their hands and to also drink, but this new development has put a stop to that. The UNICEF/EU WASH project has provided water for them to use at all times and has put an end to their old ways of lives."
On ways to ensure sustainability and continuity of the WASH project, she said the school has set up a team of WASH Ambassadors in every class. "These Ambassadors are the ones in charge of the facilities. We are teaching them so that they can also teach the young ones. You know children learn faster and they copy what their elder ones do.
"So far, they have been good Ambassadors and have always tried to keep everywhere clean.
"As the head of this school, I am happy because this development is taking place in my time. I won't have to be shouting on them again to do what is right."
Also speaking of the WASH project, a teacher, Magdalene Okafor said the school is wearing a new look because of the project.
She said there is proper supervision by the teachers in every class to ensure that the pupils adhere to the rules of cleanliness in the school.
"We monitor the children every day and educate them on the dangers of unhygienic environment. So far, their is compliance and we are also happy that the younger ones are picking up. We will ensure that this new feat in the school continues. You know these pupils when they go back home and continue what they are doing, it will also help pass this across to the wider society.
On her part, one of the WASH one of the WASH Ambassadors, Janet Ikechukwu, said the project has brought smiles to the pupils of the school.
She recalled that before the WASH project in the school, the pupils used to go to the bush to defecate "and we hardly see water to wash our hands. It was not easy but most of us were not aware of the dangers to our health until when we were properly informed about the dangers.
"Now, with this water and toilet projects, we ensure that the environment is clean. We are also teaching the younger ones on how to do same.
"Some of the younger ones who are 3 to 4 years don't really know how to carry out these functions, but we are trying to carry them along in all we are doing so that they will follow gradually.
On his part, another WASH Ambassador, Ken Francis said "I am happy to be part of the change in my community. It is true that this project has put an end to so many challenges that we were facing. As a primary five pupil, I will do my best to assists my junior ones and also the people at home.
"I am confident that this project has changed the way of doing things in this community".