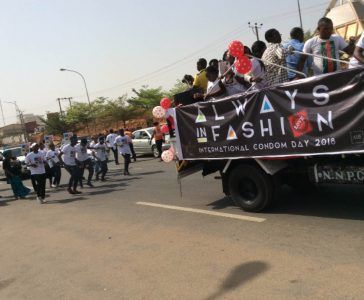 As Catholics the world over, mark this year's Ash Wednesday, other people, young and old in the country came out to celebrate the valentine's Day, buying gifts for loved ones. But to climax the celebration, AIDS Healthcare Foundation (AHF), embarked on a route march to sensitize people on the use of condom.
For the Catholics, Valentine's Day falls on a day that is set aside by the church to begin the season of lent. But none Catholics took the celebration like every other year, where the gift of rose and other precious items are used to symbolize love. At AHF, it is a day with the theme: "Always in fashion", meant to intensify advocacy on the use of condom and HIV testing.
The march which took place from National Action for Control of AIDS (NACA), office, ended at the Silver Bird, where the foundation assembled various kids for testing people on HIV.
The Foundation said it intends to distribute 300,000 condoms and test 43,000 people for HIV on ensure prevention.