How I Plan to take FCT FA to the next level -Adams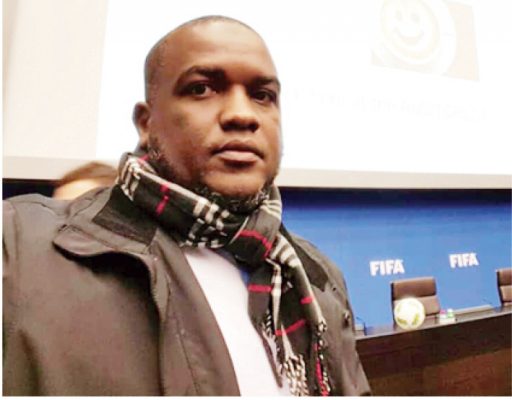 Ahead of the FCT Football Association election, former FIFA licensed agent and current 2nd Vice Chairman of the FA, Adams Mouktar Mohammed has disclosed his plans to take the FA to a greater height if given the mandate. Adams spoke with our sports correspondent, Amaechi Agbo.
You have been the 2nd vice chairman of the FA and now you want to be the chairman, what is the missing link you want to bridge?
Well, it is a work in progress and the current chairman has served two terms. He has done his best and we supported him but we feel that now is the right time to bring in fresh ideas to take the FA to the next level. I think I have something different and special to bring on board.
What are the things you would do if elected into office?
First and foremost, I have been into football for 20 years. I first came in as a FIFA licensed agent and I have had good successes. I nurtured the likes of Chrisantus Macaulay who went on to win the Under 17 World Cup and we made history because that was the first time an academy made a direct transfer to a Bundasliga club without playing in the NPFL. We had 3 players in the Under 17 then and they all went to play in Europe after the championship.
I developed so many players for Nigeria both at Under 17 and 20 and up to the Super Eagles. I discovered Musa Mohammed, the captain of Under 17 in 2013; I discovered Ifeanyi Matthew who played for the Super Eagles B Team in the 2017 CHAN. I discovered Ibrahim Alhassan, who played for Akwa United but is now in Portugal. There are many of them that I can't mention their names, at least 20 players. So, I can beat my chest and say that I am one of the most successful agents in Nigeria.
After that, I resigned and came into football administration to contribute and I am bringing something new and fresh. I am from the business world and I believe we can move FCT FA to the next level in terms of creating platforms whereby we develop players; improve facilities which are at this time very deplorable. We only have one functioning pitch in the whole of FCT which is the Area 3 pitch. We want to see how we can take this development to the six area councils in the FCT. We want to renovate the stadiums and bringing in sponsorship. We should be able to develop and plan whereby we can produce players from the FCT that will go on to play to the Super Eagles.
Abuja is the capital of Nigeria and everybody converges here, so we want everybody that comes here to feel at home and take the opportunity. We are the centre of attraction and I think we should be at that level. At the moment we don't even have an office, so it is a problem. There are many issues that needs to be done and I feel that this is the right time for me to take charge and move the FA to the next level.
You were part of the outgoing board; why did you not fix these things as the 2nd Vice Chairman?
That is a very good question. Basically, as a vice, you are like a spare tyre. As a deputy governor, you are just like a spare tyre; it is what your boss gives you that you do.
But I am not saying that it was not a success but it is also a learning cure for me. I tried to be obedient and not to cause issues. In the first sitting of the board, I mentioned that we need to do certain things; I suggested for a three-point agenda. That we should look at three things we wat to achieve and if we achieve two out of the three, I think we are a success. Unfortunately, we did not do it that way and your hand are tied. In a board there is always a voting process and if majority don't seem to align with you, you don't sway.
We have lived with that but this is the time for me to come out and express myself properly because at that time, if I insisted on doing anything, it will appear as if I am unsettling the board.
In my own capacity, I have done a lot. In the last two years, I have initiated a personal project which is the Tiki-Taka Project with some Swedish partners where we trained coaches at Area 3. it was a certification course and we took the team to Tokyo which is the World's largest youth tournament and I was the major sponsor of that. Out of that, one of the players have even side for one of the biggest clubs in Sweden few months ago.
I have also taken my team FC Hearts to China last year and we won the Gulfier Cup there. Therefore, in my capacity I have done a lot and I have always come in to support the FCT League whenever I am called upon. I have a list of things that I can say I have done and contributed for the development of football not just in the FCT but in the country. I have in the last four years sponsored coaches to NIS course as well as CAF C and B. I sponsored coach Conelus to China coaching course and he was with us in Sweden.
Football is capital intensive and the slogan here has been that the FA does not have money. Are you prepared to use your personal money to sponsor the FA?
Yes, why not. But I cannot do everything alone. I am not pretending to the messiah. What I know is that I am willing to take charge and lead the front because it is when you are ready to commit yourself, others will commit. I think we can attract funding and sponsorship. There are many institutions and corporate bodies that want to put in their money but you must create that platform for they to come in otherwise they will not give you their money.
If we package ourselves and do proper presentation, the money will role in. We did not even participate in the last world cup where coca cola did a fan show programme and sponsored fans, nobody knew about it. There are many opportunities we missed because we are not alert and we are not vibrant. We have missed out on international programmes. Last year I was invited by FIFA as one of the 50 great minds in the world. Probably I was the only person from Africa and we were in Zurich for three days. We discussed the future of football ranging from VAR technology to fan experience in the stadium and other things. People do not go to stadium because their experience is not good. There is no toilet in Area 3, so how do you expect parents to bring their children there? There is no proper food or canteen, there is no fan stand. These are basic things I feel we can provide for the fans. The parking space can be interlocked. There are key basic things we need to provide; they don't need to be elaborate. There are many things we can do within the situation we find ourselves.
You expressed your handicap over your inability to push through your ideas as the 2nd Vice Chairman. If you are elected, how do intend to override the board in ensuring that your policies and given approval?
One cardinal quality of a leader in to inspire the people he his leading. When you inspire them, they will follow. If you bring good ideas as a lead, they will yield and by the time they start seeing good results, then, they will take credit also and their names will be written in gold at the end of the day. I feel that we will achieve it and we will succeed. My intention is for us to be premier number FA in Nigeria by means of development and running and inclusive FA in which all the Area Councils will feel the impact and we will work hand-in-hand for proper development of football in the country.
Despite making over N2 million in registration, the FCT League 2018 was organised without prize money; how do you want to change the narrative when you climb the ladder?
I remember I objected to the increase in the registration fee for the league because I felt that as a board, we are supposed to alleviate the sufferings of the clubs. Really as an association, it is your members that make you not the other way round. So the more members you have, the more success you get. I felt that increasing the fee because we need more money was counterproductive and we argued it in the board they said I should let it be. Then I gave them a condition, if we had 8 clubs for the league last year and this year less club register, that means our police is counterproductive and we need to reverse it.
It was agreed that it will stand but I know that less clubs will register for the league because there are so many other issues to contend with. We asked them to pay referees and they will transport themselves; it hasn't ever worked and the league is not functioning the way it should and I think that with the ideas I, proper planning and experts on top of it, you will see a fantastic league whereby the league will pay for itself and will even be able to afford to give the league media coverage. Running a league without media coverage, you are wasting your time. The sponsors are never going to come. The media is number one; you should have the media on top of the league. If the sponsors hear all the radios talking about the league, the online writing about it and all the television stations showing the clips, they will rush in because that is where they want their money to go in because they know they will get value and their brand will align with it. If you don't have any media coverage, you are wasting your time; people come, play their match and leave but there is no end result.
But how I see it is 360. In the business side of it, if you are a football club, you want to sell your player. If he is online, on Facebook, it gives him, the brand and your club a coverage and it becomes a win-win for everybody. Unfortunately, here, we don't see the media as paramount in covering the league. Look at the top leagues in the world, for instance the Premier League; Skysports is on top of it. They give the prize money and it keeps going up because the coverage they gave enhances the global reach and then more money comes into it and they are able to give clubs more money. Skysports can give every Premier League club £200 million each and with that the clubs have over 50% of its budget for the year just from TV. Then other sponsorships ad add-ons come in to make the clubs survive and remain viable.
How certain are you that you will achieve these within just 4 years?
Well, a journey of a thousand miles begin with a step. Even if I don't finish it, another person can come in and conclude it. The most important thing for us is to set the ball rolling; let's achieve as much as we can because time is never enough for you to achieve because new dreams will come. We have dreams Nigeria to win the World Cup, so we must produce the right players and the right facilities. That is why the top teams in the world are winning and they will keep winning because they have the facility and the right players, coaches, administrators, and they put hands together on the pitch to record success.
So, we are setting a new standard whereby we will lead the way and see what happens. If I perform, then I guess it was success and that is why election is conducted every four years and if you did not perform, you are kicked out.
Is it constitutional for the incumbent Chairman to go for a third term?
Well, I am not sure about that, I have not looked at that clause. I have heard people say a lot of things. To be honest, I am not concentrating on that. People have said that civil servants are not supposed to contest for an election like him. I do not no. I have not looked at it because I am not bothered about it. In as much as the process is free and fair and so far, everything is going on well. The Director of Sports is doing well making sure that everything is put place. The electoral committee have done well in the process so far. So I am just canvasing for support from stakeholders not only the delegates and everybody that is involved in football to be convinced that I deserve to go there. I will go and face the election and see what happens. I do not allow myself to be distracted or stop me from being focused.
How confident are you in winning this election?
I am very confident because I have paid my dues. All the people that I have canvased for, I think I made a good impression in them and most importantly, I don't have a dent on my name. I have integrity and truth coming in, I have a record. I have track records; I am a doer. People who know me know my ability and what I can deliver.