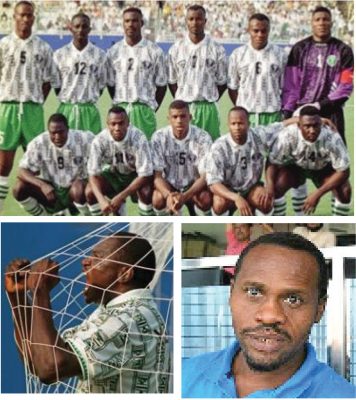 Former Nigeria international Emeka Ezeugo has revealed how he persuaded the late Rashidi Yekini from pulling out of the Super Eagles squad to the USA 1994 World Cup.
Ezeugo, 52, disclosed this in an interview yesterday.
The Eagles made their World Cup debut at the 1994 edition with Ezeugo and Yekini making the squad.
While Yekini played in the entire Eagles' games and scoring in the country's first ever goal in the 3-0 opening game win against Bulgaria, Ezeugo's only game was as a second half substitute in the group game opener.
"Rashidi was not in that World Cup. He protested directly to (Clemens) Westerhof and told him some things and he was not going to play," Ezeugo popularly known as the 'Destroyer' said.
"I talked to him that 'you have to go there, what will the other players feel if you pull out? You have to go to the pitch'.
And he went on to the pitch reluctantly and hesitantly."
He continued: "And if you watch the whole tournament, you will know that it wasn't Rashidi on the pitch. And each time that I stood up from the bench he was the only person I was shouting his name, just to wake him up. A lot of the players didn't know this."
Ezeugo said though he was close to Yekini, they were never best friends.
"We were close but he wasn't my best friend. And I didn't have a best friend in the team either. I was a one-man show, I was always doing my own thing myself."
The 1992 Africa Cup of Nations denied there were mafians in the squad and disclosed how former Chelsea Technical Director Mike Emenalo made the World Cup team while lamenting the dropping of Nduka Ugbade.
"It wasn't like that (on the issue of Mafians)(Stephen) Keshi (late) had a leverage which he could use with Westerhof. Mike Emenalo shouldn't have made the team but he was in the team because Keshi insisted that he be in the team.
"Nduka (Ugbade) should have gone to the World Cup. And besides Nduka would have been the first person in the whole world that had played in all the World Cups."
And on talks of money issues he said it was never a problem in the team.
Ezeugo added: "That wasn't our style. There is something a lot of people don't know about. Throughout my time as a national team player, Nigeria never bought my flight ticket to come play a match and to go back to my base.
"I was paying for my ticket but someone else was putting that money in his own pocket."