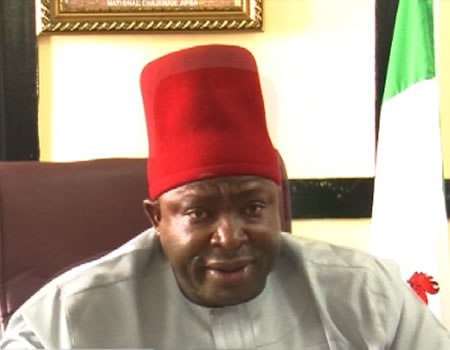 By Ikechukwu Okaforadi and Musa Adamu
The former National Chairman of the All Progressives Grand Alliance (APGA) and now a Senator representing Anambra Central Senatorial District, Victor Umeh, yesterday explained how he made Rochas Okorocha the Governor of Imo state.
He explained that Okorocha refused to participate in the supplementary election in Ohaji/Egbema that resulted in the victory of Okorocha as the Governor of Imo state, but he (Umeh) insisted that the party must participate in the election, hence APGA defeated PDP and Okorocha became the Governor.
Why describing the governor as a trickster, Umeh regretted supporting the Imo Governor, recalling that he even served as a local government violation agent for Okorocha to ensure that there was no manipulation during the collation.
Describing Governor Okorocha as "trickster" and a "419" who found his way into office through fraud and deception, Umeh said that Okorocha is about to make history in Nigeria as the only Governor that impeached two deputies.
Umeh who responded to questions on the attack by Governor Okorocha who said that he (Umeh) does not do anything in the Senate, said that he will expose Imo State governor for describing him as a non performing lawmaker.
While regretting his support for Okorocha when he was Chairman of APGA ten years ago, Umeh disclosed that Imo governor attacked him because he advised him not to impeach Eze Madumere, his deputy, having impeached his first Deputy, Jude Agbaso, during his first tenure.
He said "Rochas Okorocha is about making history in Nigeria as the only governor that impeached two deputies and because I advised him against impeaching the current one, he started attacking me.
"I regret supporting him to become a governor of Imo state against all odds. I didn't know he is a trickster and a '419'' who found his way into office through fraud and deception."
The lawmaker disclosed that he personally signed agreement that brought Okorocha to power, but later saw that the governor was a trickster.
Umeh also accused Okorocha of attacking religious leaders and elder statesmen, threatening that he will publish his fraudulent transactions if he continue vituperations against him.