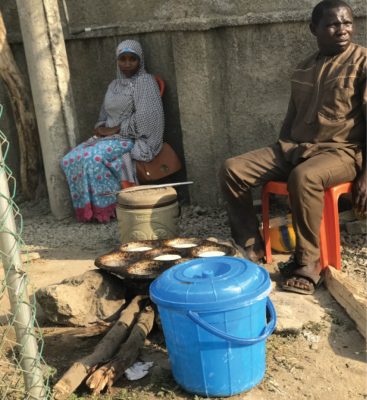 By Raheenah Bello
Different kinds of things can be done to earn a living. For most people you have to start big and or invest big money before making profit.
However, no matter what you start up as a business or the little amount you put into the business your effort determines the profit made.
So, what kind of small business could one possibly start? Babangida Muhammad is a roadside business man, who sells masa at Gwarimpa 3rd Avenue, Abuja to earn a living.
According to him, he earns nothing less than ten thousand (N10,000) a day. He works morning and evening hours but as business can be, not everyday is fruitful but he earns more during the weekends since people don't go to work.
Generally, he works with four mudus for daily sales which costs him about four thousand naira (N4,000) for preparation. His target audience are those who book in large quantities for weddings or daily breakfast.
He says some of the challenges he faces in the business include funds being raised for preparation since he pays about fifteen thousand naira weekly for the place. He would like to get another place suitable for the business which is affordable.
He says masa is porpularly known as masar Bauchi in the north. Irrespective of the state or town it is made, masa originated from Bauchi state. Traditionally, in Hausa land, masa is used occasionally during festive periods as snacks, for breakfast or as appetizers before the main meal.
It is basically a slightly fermented rice meal that is accompanied with Nigerian soup like Mayan taushe.
However, it can also be made of maize,millet not only rice. It can be prepared in two ways with sugar and also without sugar,the type eaten with soups are usually not sweetened.
It can be prepared by blending raw rice,millet,cowpea,groundnut and other ingredients such as vegetable oil,sugar, salt, skimmed milk,starch,tamarind juice and also yeast to make it rise and puffy.
His recipe for preparation includes: three cups of tuwo rice, three tea spoons of precooked rice, two table spoons of active dry yeast, a tea spoon of baking soda, Four table spoons of sugar, one quarter cups of warm water, a pinch of salt, vegetable oil. Soak your rice for 8 hours or more.
It is best if you leave it in water overnight. After the time has passed, wash the rice, put it in a blender with the precooked rice and a cup of water and blend them together until smooth.
Make sure you blend well but do not worry if you encounter some small grains. Add water gradually, as you do not want your mixture to get to watery or too thick.
Use the remaining water to proof the yeast. By that, it means mixing 1/4 cup of water, a teaspoon of sugar and yeast and setting the mixture aside for about 5-10 minutes.
Unload the rice mixture into a large bowl, add the proofed yeast, soda, the remaining sugar and some salt and mix the whole thing together. Cover the bowl with the mixed batter with a clean kitchen towel and leave it for 6 to 8 hours. Alternatively, you can leave it overnight.
When the time is up, put a little bit of oil on the pan and fry your batter. It is best if you separate the batter into smaller pieces and fry them in batches on both sides until they are golden-brown.
After you are done with frying, serve your masa with maple syrup, honey, suya, hot sauce or any other condiment of your choice.
Also the use of dry masa flour is rapidly growing because of its convenience,with the use of dry masa flour you don't have to go through the whole process of soaking of rice and the rest. Some of the nutritional benefits include potassium, phosphorus, magnesium and zinc.