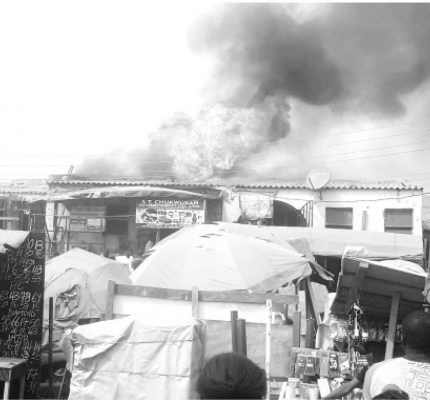 By Stanley Onyekwere
Traders and motorists escape death by the whiskers in the wake of a fire incident that engulfed many shops at the popular Jabi motor park in Abuja, the nation's capital city, at the weekend.
It was gathered that the inferno which started at 10:12am on Friday, caused serious confusion and pandemonium in the park as passengers and motorists scampered to safety.
The situation was heightened when the fire spread to a shop where car batteries and car gas were being sold, causing more havoc as combustible items exploded in the process.
And the loud explosion sent out a large ball of fire and smoke into the air, thereby causing serious commotion around the densely populated business area of the nation's capital city, resulting in serious human and vehiclular traffic, thereby bringing business activities to a halt.
Eyewitness account revealed that sympathizes also rendered assistance as they evacuated goods from others shops in order to salvaging them from being consumed by fire.
However, it took the timely intervention of the men of Federal Capital Territory (FCT), fire fighters, who arrived the scene few minutes after and put out the inferno and prevented it from spreading to other shops.
Meanwhile, no live was lost in the incident but the traders had a hectic time to control the miscreants, who were bent on causing a problem with their unsolicited assistance.
Preliminary checks revealed that the fire might have been caused by an electrical spark in one of the shops.
Though normalcy has since returned to the ever busy market, those who lost their goods worth millions in the incident are still counting their loss.