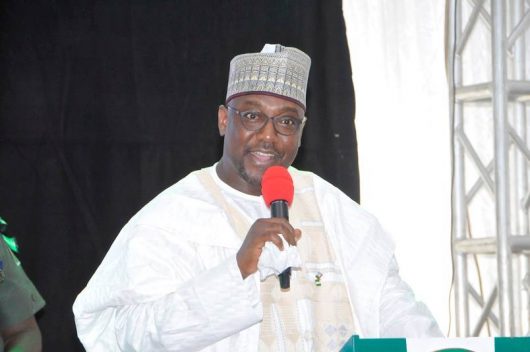 By Etuka Sunday
President, CE, Dangote Group, Aliko Dangote has been commended for his ingenuity in spurring development of the Niger state economy.
Governor of the State, Dr. Abubakar Sani Bello, while declaring open, the 16th Niger National Trade Fair, in Paiko, Niger State on 28 July, 2018 said the inventiveness, resourcefulness and enterprenural spirit of the foremost Businessman, have helped to move the state's key sectors forward.
Dangote programmes in the state reduced the menace of unemployment, bedeviling its societies.
In line with his vision to add value to the Nigerian economy, Dangote has enhanced many States' economies. In Niger State also, his out-grower scheme in Rice production led to massive job creation, keeping many Youths off the streets.
"There is no doubt that the interventions/initiatives of Aliko will also impact on this year's fair, which he is major sponsor because "Where ever you see Dangote, things seem to happen". Bello said.
Represented by Deputy Governor of the State, Ahmed Mohammed Ketso, Bello said ease of doing business in Niger state have been simplified with property owners having their C of Os signed in no time.
Governor Bello reiterated plans by his administration to enhance SMEs and expressed optimism that this fair would launch their activities appropriately for them to contribute their quota to economic development of the state.
He disclosed that the proposed Zuma Rock International centre by the state, promises to be a business hub to unlock opportunities for the state's turn around.
"Located around the Abuja, Kaduna and Niger State highway, the Zuma Rock trading centre would showcase 495 shops, modern facilities, several aluminium stores, spare parts section, warehouses"
The Governor showed appreciation for the support offered by some High Commissions in Nigeria particularly India, Yugoslavia, China and the neigbouring States- Nasarawa, Benue, Plateau in enhancing Niger trading and improving its agriculture, Mining and Solid Minerals.
"Their relationship with the Niger State Commerce, Industry, Mines and Agriculture would be sustained".
In his Welcome address, the President, Niger Chamber of Commerce, Industry, Mines and Agriculture, Umar Ahmed Bakai said Niger State is poised to compete favourably with other States in attracting global investors.