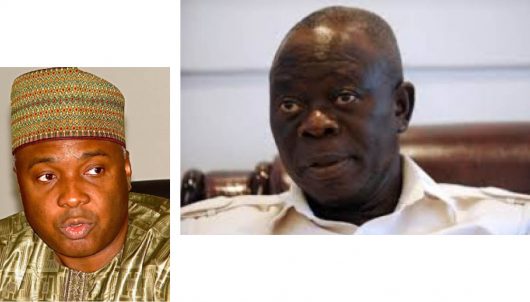 By Umar Muhammad Puma
Amidst fears that the oppositions will reap from the fall out of the elective National Convention of the ruling All Progressives Congress (APC), the party appeared to have weathered the storm by organizing one of the best conventions in recent time.
The convention, which started behind scheduled due to the consistent rainfall, lasted for two days at the Eagle Square, in Abuja, with a total of 6,800 delegates from across the 36 states and the Federal Capital Territory (FCT), who were there to elect candidates for 60 positions.
However, before the commencement of the convention, some candidates announced their withdrawal from the race, thereby allowing 18 candidates to emerge unopposed.
One of such candidates who publicly announced his withdrawal, was the former member of the House of Representatives, Hon Abdulrahman Terab from Borno State, saying "after due consultation with family, friends, political leaders and other stakeholders, I have decided to withdraw from the race."
Other candidates, who withdraw for the position of National Secretary, included: Kashim Iman and Waziri Bulama among others.
Chairman of the convention committee, and a governor of Jigawa state, Abubakar Badaru, declared that a total of 18 have emerged unopposed.
Already, before the convention started, former governor of Edo state, Adams Oshiohmole, had been affirmed elected after his challenger Clement Ebiri announced his withdrawal from the race.
Ebiri, who is former governor of Cross Rivers state, announced his withdrawal in a statement issued before the convention saying "after deep consultation with family, friends, political leaders and other stakeholders, I have decided to withdraw from the race."
Declaring the convention opened, President Muhammadu Buhari congratulates all delegates who have emerged from the wards, local Governments and State congresses from the 36 States of the Federation and the FCT.
He also thanked the outgoing National Executives of the party, especially those who will not be offering themselves for re-election for their tireless efforts in securing victory for the party at the last elections and managing the success thereafter.
Buhari assured members of the party that despite few lingering issues with the congresses in some states, the party will emerge stronger after the convention.
"The unresolved cases we have are the price we have to pay for success, as everyone wants to be associated with a winning team. I am imploring all those with grievances to keep faith in the party, until we put things right."
He commended the Convention Committee under the leadership of Governor Badaru Abubakar for providing a level playing field and instilling confidence in both aspirants and delegates with their thorough approach and adherence to transparency.
"I commend all the delegates from across the country for your sacrifice and patience, travelling all the way from your different destinations and waiting in inclement weather, as it has been raining all the day. Thank you for your commitment.
"The adoption of consensus as a first option is commendable and the process has led to a lot of healing and cohesion across the states and the zones, and where elections are inevitable. I have been assured that the process adopted will result in clear and undisputed results. Again I am appealing to all contestants to keep faith with the party."
President Buhari, therefore, appealed to all to put the party ahead of personal
considerations and to accept the outcome of the exercise in good faith.
"You are all important to our party's progress and all must come together to ensure success in the forthcoming polls so as to enable us to continue the good work we have been doing for our fellow Nigerians."
Earlier, immediate past chairman of the party, Chief John Oyegun thanked the founding fathers of the party, particularly Asiwaju Bola Ahmed Tinubu, Chief Bisi Akande, Ogbunnaya Onu, Prince Tony Momoh for accepting the idea of unity for the progress of the nation.
He also acknowledged the contributions of the nPDP and a faction of All Progressives Grand Alliance (APGA), for coming together to support the merger process.
"My colleagues of the outgoing NWC, I thank you for the fantastic cooperation I have received all these years. Yes, our arguments were something almost getting muscular but at the end of the day we provided the kind of leadership that has brought the party to this point today. Yes, there are divergent views here and there but the essence is that the APC at the end of the day is a strong party, a passionate party that believes in its ideal and the vision of Mr. President."
Immediately after the election was announced, and the outgoing NWC was dissolved, the Attorney General of the Federation (AGF), Minister
of Justice, Abubakar Malami sworn-in the newly elected National Chairman Adams Oshiomohle.
Malami also sworn-in the National Secretary of the party, Mai Mala Buni who was returned unopposed.
In his acceptance speech, Oshiomole while acknowledging the efforts of the founding chairman, the first interim chairman, Chief Bisi Akande, who, he said operated under extremely difficult circumstances and in spite of the determination of then ruling government to do everything possible to undermine the resolve of the four parties that merged to form the APC.
"I am aware there are challenges here and there. But I believe that the team that has just been elected, we have what it takes to address those challenges. This instruments required do not need to be rocket size, but basic commitment to the provisions of our constitution, commitment to internal democracy, mutual respect for each and every one of us, purge ourselves of any arrogance and a commitment to honesty, listen, discuss, persuade and find common ground so that in the end, we can have a win, win solution in any states we have challenges and even on issues affecting various arms of government elected on the platform of our party.
"I am very clear that it is the very solid foundation laid by our first interim chairman, Chief Bisi Akande was so solid that the first chair, and did not have to do fresh excavation. I think it is just fair that on this occasion, I place on record, my personal gratitude to him and I believe that it also covered the feelings of members of the party across the country.
"I also want to acknowledge the role played by our national leader, Asiwaju Bola Ahmed Tinubu who our President often refers to as his partner and dear friend. Mr. President, that historic partnership made a difference and it substantially explained the victory that Nigerians gave to us in 2015.
"Mr. President, you have also made history and taught us valuable lessons. One of the lesson I learnt from you and which I believe most Nigerians have learnt from you is that those who seek to contribute to the affairs of their nation's in a democracy must appreciate that this process is a not a 100 meters dash. Only people with capacity, energy and tenacity can go as far as you have gone.
"Mr. President, you are an exemplary leader. You are already in history as the first non millionaire retired officer investing only your integrity as your asset and defeating a party that emptied the national treasury in their quest to impose themselves on our nation.
"Let me conclude by saying that there are challenges, but we are ready and tomorrow, we will résumé work because there is no time to waste.
That is why we promptly swore in members of the National Working Committee. By 8.00am tomorrow, I am ready to take my seat; and I know that my brother's handing over notes is ready.
"Mr. President, you have invested so much trust not only in my person, but in all of us that has just been elected. We owe you and all members of our party and all our leaders and our governors, I assure you that working together, we will democratically resolve all those issues that appear to be intractable."
Officers sworn in by the National Chairman are; National Vice Chairman south East- Emma Eneukwu, National Vice Chairman south south- Hilliard Eta, Deputy Legal Adviser- Ado Oguta, National Treasurer- Adamu Fanda, Deputy National Financial Secretary- Sunday Jacob Chukwuma, National Publicity Secretary- Mallam Bolaji Abdullahi Others are; National Auditor- Chief George Moghalu, National Women Leader- Salamatu Umar Elijah, Deputy National Women Leader- Barrister Ndoma Oye, National Youth Leader- Abubakar Shuaib, Deputy National Youth Leader-Hafiz Bolaji, Youth Leader (North East)- Kashim Bello Maigari, Youth leader (North West)- Abubakar Sa'adu, Youth Leader (South West)- Lanre Olarewaju, Youth Leader (South East)- Onyeka Olisemeka, Youth Leader(South South)- Gabriel Iduseri.
And North East Organizing Secretary-Shuaibu Abdulrahaman, South south Organizing Secretary- Adefamile, South West Organizing Secretary- Femi Egbedeyi, South East Organizing Secretary, South East zonal, Secretary- John Uwaede, South south zonal Secretary- David Okumgba, Zonal Women Leader, North West- Hanatu Buba, South east Women Leader- Blessing Onuoha
Also sworn in are; National Vice Chairman North West- Inusa Abdulkadir, Deputy National Auditor- Isa Madu Chul, Deputy National Secretary-Victor Giedom, National Vice Chairman North East- Mustapha Salisu, Deputy National Chairman, North- East Amina Tumanga, Zonal Women Leader North East- Senator Lawal Shuaibu, National Organising Secretary- Barrister Emma Ibediro, Ex-official (south south)- Ndukwe Ayandu
While the positions that were declared unopposed are; the National Chairman, Adams Oshiomohle, Deputy National chairman, Niyi Adebayo, National Secretary Mai Mala Buni, National welfare Secretary, Ibrahim Masari, and Deputy national welfare Secretary Jack Alumba, National Financial Secretary, Tunde Bello, National legal adviser Babatunde Ogala, National vice chairman (south west), Bankole Olajuwon, Others are; Zonal Secretary (north central), Zakari Mohammed, Zonal Secretary (north east), Abubakar Sadiq, Zonal women leader (north central), Hassana Abdullahi, ex-officio (north central), Nelson Abba, ex-officio (north east), Isa Azare, ex-officio (north west), Nasiru Haladu, zonal Secretary (north west), Tukur Gusau, zonal women leader (south south) Rachael Akpabio, and representative of the physically challenged, Misbahu L Didi.