How ANA Kano celebrated its 2018 Literary Week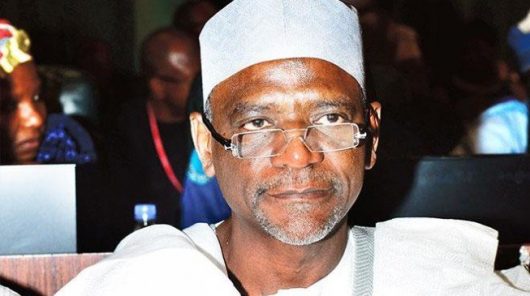 From Salim Umar Ibrahim, Kano
It is not surprising and no news anymore that the creative cycle is gradually diminishing from the light as youth of today have found solace in mostly western contemporary cultures rather than the ideal and reality – throwing away their inherited ways and imitating so much that has to do with mere entertainment that is unreserved to the development of their communities, themselves or rather their intellectual being, dumping all sense of belonging to the pit.
In line with this, in its effort to promote and rescue literary activities from fall off, the Association of Nigerian Authors (ANA), Kano State branch, under the leadership of Malam Zaharaddeen Ibrahim Kallah has successfully and entrancingly celebrated its unique, exciting and most awaited program, Kano Literary Week. The theme of this year's edition was: Creative Writing as a Tool for Enhancing Democracy.
The program, which commenced with an impressive grand opening at the Murtala Muhammad Library Complex, Kano State, was graced with the presence of the Emir of Kano, His Highness Muhammadu Sanusi II and ten of his high ranked district heads. Many prominent and influential people also graced the occasion with their presence: among others there were Alhaji Bashir Othman Tofa, the National Republican Convention (NRC) candidate in the annulled Nigeria's June 12, 1993 presidential election; the Vice Chancellor of Yusuf Maitama Sule University, Professor Mustapha Ahmad Isa who served as the chairman of the occasion; the Deputy Vice Chancellor, Academics, Bayero University Kano, Professor Adamu Idris Tanko; Professor Habu Muhammad who was the keynote speaker; the former DG of A Daidaita Sahu, Dr. Bala Muhammad who served as the master of the ceremony (English), and Malam Nasiru Wada Khalil who served as the master of the ceremony (Hausa).
Other important dignitaries are Director of Aminu Kano Centre for Democratic Research and Training, Mambayya, Professor Ismaila M. Zango; the Director, Centre for Gender Studies BUK, Professor A'isha Isma'il; the Executive Secretary of Kano State Library Board, Dr. Ibrahim Bichi; the University Librarian of Bayero University, Dr. Musa Auyo; the Dean of Social Sciences, BUK, Dr. Nu'uman M. Habib, the Head of Department of Nigerian Languages, Dr. Ibrahim G Satatima; Professor Aliyu Kamal; Dr. Tijjani S. Almajir; Dr. Saka Aliyu (Sakky Jojo), Dr. Isma'il Bala, Maude Rabi'u Gwadabe, Mahmud Abubakar Zukogi, Malam Lawal Adamu Giginyu, and Malama Sa'adatu Baba Ahmad. Pupils and students from various schools were also part of the great occasion.
In his remark, His Highness Muhammadu Sanusi II stressed the importance of education as the only measure through which Nigerians can embrace to pull out from the present socio-economic and political bind. The Emir also stressed the need for the government to adopt the use of our indigenous languages as a medium of instruction in our conventional institutions of learning especially in science, technical and medical related courses.
He stressed that writers have a gargantuan role to play in the process of reforming the social life and affairs of our people. He therefore beseeched the writers to expand their writing horizons so as to cover and create a positive influence in our day-to-day life. He said that many problems that bedevil our society like drugs abuse, incessant domestic violence, poor parental care, high rate of divorce, women/child trafficking and molestation etc can be addressed through writings.
Similarly, the keynote speaker, Professor Habu Mohammed stressed that ANA has a significant role to play in the creation of awareness among our youth to curtail many of the problems relegating our society, particularly in the education sector.
Another important activity of the program was the "Reading Through Model". It was aimed to foster greater interest in reading among children and our teeming youth and to promote reading culture that nowadays dwindles in our society. Leaders, celebrities and other influential people stood before the students and pupils to read some books to them. Photographs of the reading sessions were taken to produce posters for distribution in various schools and libraries. The influential people that read to these young people include Alhaji Bashir Othman Tofa, Dr. Mannir Sulaiman, Poetess Maryam Gatawa, Poetess Safiyya Ibrahim Abdulhamid and Malam Lawan Adamu Giginyu.
Earlier, in his welcome address, the Chairman of the Association of Nigerian Authors (ANA), Kano State Branch, Zaharaddeen Ibrahim Kallah, said writers are very concerned about the state of their societies, especially poverty, corruption, inequality and bad governance.
According to him, as a group of writers, they were determined to look at these problems and raise a massive campaign towards addressing them.
Writers' Talk (English Version)
Writers' talk is a new form of presentation by some preeminent writers and scholars to spread various ideas and writing skills in form of short, powerful talks. Different topics related to writings were given to the presenters and each presenter was given 15 minutes to make his presentation. The writers' talk (English version) took place at American Space, Murtala Muhammad Library Complex, Kano State. The resource persons include the former DG of A Daidaita Sahu, Dr. Bala Muhammad, the Executive Director, Centre for Information Technology and Development (CITAD), Engineer Y.Z. Ya'u, Malama Maryam Ali Ali, and Malam Kabiru Musa Jammaje who was represented by Osama Jilani Dayyab.
Writers' Talk (Hausa Version)
Hausa version of Writers' talk also took place at Murtala Muhammad Library Complex. Some preeminent Hausa writers were also selected to deliver such powerful talk on different topics. The classical writers and scholars that made the presentations are: Malam Yahaya Ahmadu Dan-Arewa, Hajiya Balaraba Ramat Yakubu, Malama Fauziyya D. Sulaiman, Malam Nasiru Wada Khalil, Malam Faruk Lawan Da'u and Alhaji Aminuddeen Ladan Abubakar (ALA) who was represented by Malam Auwalu G. Dan-Borno.
Literary Quiz for Secondary Schools
The sole genesis behind literary quiz for secondary schools is to create ravenous and lifelong readers with expanded horizon, imagination and curiosity and to encourage an independent reading across our schools. Similarly, it strengthens the position of literature and literary activities and also fosters connectivity around books and reading.
The winning schools of the literary quiz for the English and Hausa literature are:
For English Literature, Creative Minds Academy (Winner), Shekara GGSS (First runner) and Khalil Arabic Secondary Schools (Second runner), while from the Hausa Literature were FGC Kiyawa, Jigawa State (Winner), Gora Academy (First runner) and Shekara GGSS (Second runner).
English Writers' Parley
Writers parley, a conference for discourse between some selected classical writers and other writers, readers and audience, took place at Murtala Muhammad Library Complex. It gives an opportunity for the young writers and students to learn about how veteran writers get their ideas and turn those ideas into books. It also helps to make those connections visible for readers, emerging writers, and students.
The moderator of the great parley was Malam Isma'il Bala, who teaches English at Bayero University, Kano, Nigeria, where he specializes in modern and contemporary poetry and literary theory.
The classical writers that participated in the great parley were: Professor Aliyu Kamal: He is a preeminent, hardworking author of 14 novels which were all translated into Hausa language by him. He is an avid reader, critic, highly resourceful and winner of the ANA-Chevron Award. Some of his books include: Fire in my Backyard, Hausaland, Silence and a Smile, A Possible World, Hausa Girl, Computer Shutdown, Women without borders, among others.
Auwalu Yusuf Hamza: is a bilingual novelist who writes in Hausa and English. He was former ANA Kano Chairman. Some of his books include, Gidan Haya, 'Yarkwatano, Love Path, A Question of Marriage, Open Courts, Citizens Parade etc.
Safiyya Ibrahim Abdulhamid: is a classical poetess of two collections, Jewel from the New World and Destined by the Rhythm. Safiyya has been known for her spiritual gift of excellent poetry rendition and lyrical voice.
Zahra Tabi'u: is a young bilingual novelist of high literary genius. She published her first novel, Desire and Destiny when she was a secondary school student. Zahra short story Tsalle Daya was among the honorable mentioned in the 2018 BBC Hausa short story prize.
Award Presentation/ Grand Closing
The award presentation/grand closing ceremony also took place at the same venue. The chairman of the occasion was Professor Abdulkadir Dangambo, while the master of the ceremony was Malam Kabiru Yusuf Fagge (Anka). Some prominent personalities were presented with awards of honour do to their gargantuan efforts in the promotion of literary activities. Some dead writers who also contributed immensely while alive were also awarded posthumously.