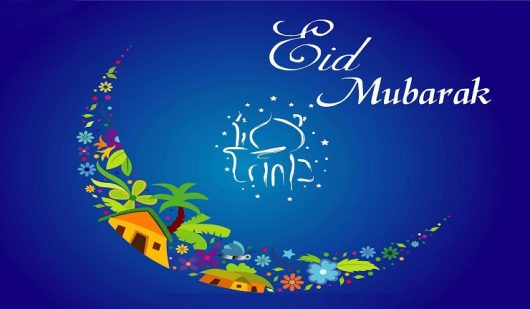 Sunday, May 24 (yesterday) was the first day of Shawwal, the 10th month in the Islamic calendar, which marked the beginning of Eid el Fitr, also called 'Festival of Breaking Fast'. It comes up at the end of the fasting month of Ramadan. In normal times, it is an occasion for celebrations, characterized by feasts and general merrymaking by both the old and the young. Indeed, the first three days of Shawwal are spent in celebrations. For the young, in particular, it is an occasion for a fashion parade, when they strut in their new fineries. For them, no Eid el Fitr is complete without donning brand new attires to impress one another and the 'competition'.
Sadly, at a time when all Muslims should be cheerful, they are not. The mood is somber, no thanks to the Covid- 19 global pandemic that has killed over 300,000 people across the world. The death toll is rising by the day. Nigeria's infection cases have overshot the 5,000 mark with over 100 deaths. The silver lining is that over a thousand have recovered fully and rejoined their families. However, the signs are all very clear that the Sallah day celebrations in the country, in general, but the North specifically, may never be the same again for a long time to come. Even without saying it, Eid day celebrations in Kano, Jigawa,Yobe, Katsina, Borno, Kaduna, and Adamawa states will be markedly solemn because of the pandemic. Hardly a day goes by without these states reporting new infections and deaths.
In spite of this new global public health challenge, we urge the Muslim faithful not to give in to fatalism but do their part in the fight against Covid-19.This requires that everybody conform to the safety protocols given by the health authorities. It also means that our Muslim brothers and sisters pay more than perfunctory attention to what Eid el Fitr requires of them. This is an occasion for honoring God and serving humanity. As we bid farewell to the holy month of Ramadan, let us welcome Eid el Fitr with a renewed attitude of gratitude and forgiveness in our hearts. In particular, we should strive to inculcate the lessons of the month in ourselves and give peace a chance in our dear nation.
We want to use this opportunity to once again call on our leaders to change their ways of doing things and put the nation first and always in both their deeds and utterances. We wish all Muslims happy Eid el Fitr celebrations.