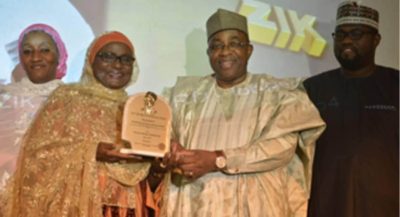 By Ali M. Ali
Two important events happened to the family of governor of Bauchi state, Mohammed A. Abubakar and his wife, Hadiza Abubakar, penultimate weekend in Lagos. Both of them celebratory and done separately. Vanguard newspapers honored the governor with the prestigious 'Governor of the year' award while the wife received the 'Zik" award for Humanitarian services.
It is needless to state that it was a well-deserved recognition. Her life trajectory long before she became the first lady of Bauchi state had been that of service. She has had an unblemished record and distinguished public service career spanning over 30 years retiring at the peak as a Director in the nation's apex bank, the CBN.
Her ascendency to the top wasn't by accident. It was a mixed bag of "inspiration" and "perspiration". The former was a little. The latter was in torrent. Juggling a career and raising a family required great sacrifices. This could be scaring to the faint hearted. Like her husband, obstacles are no more than opportunities to apply one self and excel. That was exactly what she did. She conquered. Thanks to a greatly supportive husband. But before then, a dotting grandfather and a scholar of repute, had encouraged her baby steps in the acquisition of eastern and western knowledge at a time the girl child education didn't excite most folks.
Her 'can do' spirit manifested from her teens as an undergraduate of the Ahmadu Bello University (ABU) where she met the young Mohammed A. Abubakar who later became her husband. Their union has proved, in graphic terms, the vision of the father of modern Singapore, Mr Lee Kuan Yew in which he saw an educated couple with a minimum of first degree excelling. At the time he recommended that a graduate male should marry a female graduate in Singapore, he was roasted. The policy was derided and mocked. The womenfolk were up in arms. They kicked and screamed. His argument was that if an educated man marries an educated woman, they would breed smart children. This was in the early 80s.Today Singapore is a first world with a GDP higher than the USA and zero illiteracy.
The Abubakars have actualize the Singaporean leader's vision. Both husband and wife had degrees from the start. Today,they share multiple degrees between them and after nearly forty years of their union as husband and wife, five children and six grand children later, the bond between husband and wife waxes stronger by the day. Their children clearly have inherited their smart genes. All five of them are graduates, some with a masters to boot.
Rarely you see a "power" couple complimenting each other so perfectly. In Hadiza MA Abubakar, you find independent enough to compliment and support her husband, feminine enough to have her identity and respect boundaries.
She is a unifier. She puts others first. Naturally, people are drawn to her. From across divides- family, work place and community, Hadiza Abubakar lives up to her name as a giver and leader.
Her NGO, the Bauchi Sustainable Women Economic Empowerment and Peace Initiative (B-SWEEP) have altered, for good, the depressing narrative of misery and want among the womenfolk in the state. It seeks to boost "the productive capacity of women through skills acquisition and financial literacy. It is also working to complement government effort by providing maternal and child care delivery services, re-integrating women and girls into the formal school system, enhancing food security through women participation in agriculture and creating awareness and coordinating activities aimed at fostering peace"
Lofty ideals, no doubt. To match vision with action, the B-SWEEP has trained over 600 women, youths, and IDPs in various skills, provision of foodstuff, clothing, and hygiene items to leprosy, tuberculosis patients, VVF centre, Rehabilitation Centres, and School for Children with Special needs. It has provided nutritional meals to 1400 malnourished children as well as the provision of delivery kits to 1600 pregnant women across the 3 senatorial zones in the state. B-SWEEP also supports the treatment of some cancer patients.
Over 100 IDPs orphans and vulnerable children in primary and secondary schools have been given scholarship. It is collaborating with UNESCO to see how they can integrate over 500 women and girls back to formal and non-formal school system. On peace B-SWEEP has organized peace clubs in 10 selected public schools so as to create awareness and promote peaceful co-existence among our youths?
She has interfaced with the Ministry of Women Affairs and Child Development and also the State Ministry of Health so as to touch the lives of women, children and vulnerable groups. Over 2000 women drawn from the 20 local government areas were trained in various skills, wheel chairs and other relief materials provided to the physically challenged persons, distribution of food items to IDPs in the state, distribution of food and sanitary items to the motherless babies' home, distribution of food items to women during festive periods i.e. Sallah, Christmas. The list is long.
In Hadiza Abubakar, is a rock on which her family leans for support. She is a steadying hand all the time to her husband at the home front. She discharges her role as first lady without being "obtrusive". She is the "go to fella" in moment of bedlam. And a true respecter of boundaries. Little wonder, she is being regularly celebrated and showered with accolades. The Zik award is the latest of such recognition. Others are Total Magazine Most Outstanding First Ladies Award, Most Valuable Governors Wives Award, ECOFEPA Ambassador, Northern Nigeria Women of Merit Award, NCWS Meritorious Award, and the National Advocate for Vaccine Access Award, Maternal and Child Health Champion Award, World Humanitarian Awards, CBN Best Staff Performance Award and NTA Outstanding Performance Award.
Truly her resume' is a dream. It reeks of "competence". With a first degree in English and a graduate degree in Public Administration, a chain of local and foreign courses in human resource management, they don't come any better. Only a few came this prepared for the office of the First Lady of a state, nay of a nation.
Her CV speaks volumes of her inelastic capacity as a "doer", a task master if you like, with an array of skills. She embodies multiplicity. A consummate administrator, a supportive spouse, a loving mother and a compassionate human being all rolled into one. At all times, from childhood till date, she has braved the odds doing the near impossible, blazing trails, conquering mountains, setting the pace, expanding the frontiers. Blue blood by birth, down to earth by nature. Like her husband, she assumes no airs. She empathizes with all and sundry. She listens to understand not to reply. She spots "eye service" from a far. That does not hoodwink her. She compliments her husband so well that the voters are getting two for the price of one!