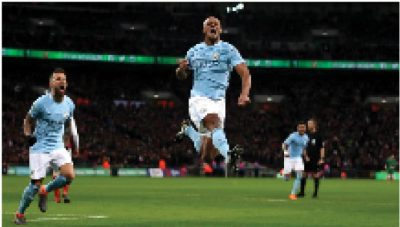 Old favourites Sergio Aguero, Vincent Kompany and David Silva scored as Manchester City hammered Arsenal 3-0 in the EFL Cup final.
Pep Guardiola's Manchester City reign landed its first tangible reward yesterday as the Premier League champions-elect thrashed Arsenal 3-0 at Wembley to win the EFL Cup.
Although a clean sweep of trophies is off the table following the FA Cup defeat at Wigan Athletic, Guardiola has already improved on last season's lack of silverware, with one trophy now secured and the league title sure to follow.
Whether or not the Champions League makes it three, City have taken on a dominant air this term, and it showed at the national stadium.