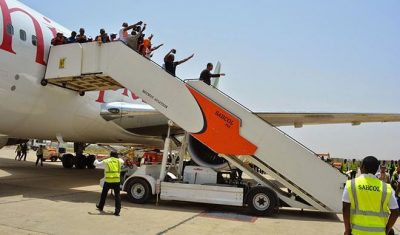 From Suleiman Idris, Lagos
Fresh policies by government to cover it subvention, waivers on equipment importation, forex, tariff among others are needed to provide the right impetus for the growth of ground handling businesses in the Nigeria aviation sector, Sahcol Acting Managing Director, Mr. Basil Agboarumi has said.
The Skyway Aviation Handling Company Limited (SAHCOL), boss said the new policies are necessary following series of increase in price of equipment, cost of importing spare parts, tariff paid by airlines as well forex exchange rates in the country.
He spoke at an tagged 'Gateway Forum' put together by the League of Airports and Aviation Correspondents (LAAC), in Lagos.
He reiterated that the ground handling sub-sector of the industry has not enjoy any government intervention policies such as subvention or waiver just like others over the years.
Ground handling firms, he noted should enjoy similar government forex policies accorded airlines on spare parts importation and equally intervene on the seemingly unhealthy price war in the sub-sector.
He said ground handling companies pay through their noses to import their equipment even in foreign currencies, adding that they neither get waiver on custom duties or get any assistance from government as exchange rate soars.
He said for years despite the increase of the dollar to Naira; the handling rates have remained the same even when the airlines have continued to adjust fares.
"The equipment we use are heavy, they are not manufactured in Nigeria, and it costs a lot to buy and import them, we pay a lot of duties, government has done a lot to help the airlines but there are other support companies that are not touched, government can also waive the import tariff for us like they did for airlines, they shough help us with policies that will stabilise our operations", he said.
Apart from this, Agboarumi asked government through the Nigerian Civil Aviation Authority (NCAA) to intervene in the price war that has been created by unhealthy competition.
He said the NCAA can regulate the operations by setting standards for pricing, adding that due to this , foreign airlines pay a paltry sum of what they are supposed to pay for services to ground handling companies.