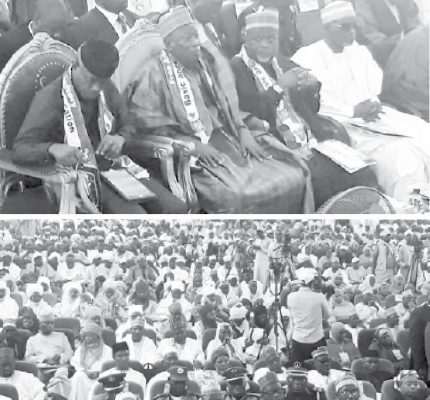 From Mustapha Adamu, Kano
The quality of education in Nigeria has been the bane of national development. The decline in the quality and standard of education in the country is alarming.
No doubt, the northern Nigerian region is the most affected with high illiteracy level, all statistics indicated that the region is lag behind. This is evident with the the number of children of school age that roaming the streets.
To this end, a number of factors have been identified by stakeholders responsible for the poor state of education in Nigeria, poor funding, lack of basic infrastructure, lack qualified teachers, teaching materials among others.
With the lingering security challenges bedeviling the country, especially the northern region, there have been calls for the federal and state governments to reform education sector as illiteracy is seen as one of the major causes of the insecurity.
According to the Kano State Governor, Abdullahi Umar Ganduje Nigeria has over 10.5 million out-of-school children. It is also more alarming to note that 60 percent of that figure represents the girl-child.
Also, a survey by a non-governmental organization had indicated that 8 million of those out-of-school children are in 10 northern states of Nigeria with Kano having the lion share. Regrettably, available figures indicate that over three million of these out-of-school children are in Kano State alone.
Hence, the need for northern political elites to rise up and face this problem squarely if they are serious about checking the lingering insecurity, endemic poverty and taking those millions of out-of-school children School.
In an effort to curb the menace, Governor of Kano State, Abdullahi Umar Ganduje came up with a 'unique' education reform, which the Vice President, Yemi Osinbajo described as Educational Revolution.
Which is the introduction of Free and Compulsory Education by Governor Ganduje, aimed at enriching the children with the requisite knowledge to pursue their study to tertiary institutions in a bid to become the catalyst to the development of the State.
PEOPLES DAILY reports that the program, introduced by Ganduje administration entails free and compulsory education from primary to Junior Secondary School level with punitive measures to be meted out to all defaulting parents.
The program, which was formally launched on Tuesday at Coronation Hall, Government House, was graced by the Vice President, Minister of Education, Adamu Adamu, representatives of the US Ambassador to Nigeria, the British High Commission, French Ambassador to Nigeria, DFID, World Bank, United Arab Emirate Ambassador to Nigeria, Saudi Arabia Ambassador to Nigeria, UNICEF, among others who all pledged their support to the project.
This newspaper understands that the objective of the summit was to discuss, analyze, and generate ideas towards the implementation of the vision for free and compulsory basic and secondary education in the state.
Speaking at the event, Ganduje said on the assumption of office for second term on the 29th of May, 2019, he made a policy statement and commitment to provide free and compulsory education from primary up to senior secondary level, adding that it is in recognition of the pivotal role of education as the primary agent of change in society.
According to him, it is disturbing to note from available statistics that Nigeria has over 10.5 million out-of-school children, it is also more alarming to note that 60 percent of that figure represent the girl-child.
He also stated that 8 million of those out-of-school children are in 10 northern states of Nigeria with Kano having the lion share, regretting that available figures indicate that over 3 million of these out-of-school children are in Kano.
Ganduje further revealed that most of these children are Almajiris from other northern states and children from the Republic of Niger, Chad and northern part of Cameron.
Providing solutions to the menace, Ganduje further called for regional coordination and legislation that will enable the control of the influx of Almajiris from neighbouring countries and also from state to state.
in his efforts to tackle the challenges of almajiri in the state, Ganduje administration has set up a committee to conduct a census of all out-of-school children with a view to update the available data and ensure adequate planning in preparation for the implementation of the all important education policy.
"This will further consolidate the commitment of government to the 'Better Education Service Delivery for All (BESDA), a UNICEF programme which aims at ensuring equitable access to basic education for out-of-school children," Ganduje said.
Ganduje also revealed that plans are on the way to streamline about 13,619 Quranic schools with 2.5 million pupils across the state and integrate them into the free and compulsory education programme.
This brought the idea of setting up of Quaranic and Islamiyyah Schools Management Board, aimed at overseeing the almajiri education in the most populous northern state.
To this end, Ganduje further stated that in line with the free and compulsory basic and secondary school education, his administration has commenced direct funding of 1180 primary and secondary schools, with a total students population of 834,366, amounting to about N200 million per month or N2.4 billion per annum.
He added that, "similarly, government has provided school uniforms to 779, 522 newly enrolled pupils (boys and girls) at the total cost of N381 million. In a bid to reduce teaching deficiency in the sector, government is in the process of engaging 3000 volunteer teachers to teach in the various public and Quaranic schools across the state.
"Other challenges inherent in this policy include massive rehabilitation and construction of new class rooms, provision of instructional materials, training and restraining of teachers, provision of instructional materials, provision of water, toilets, and electricity in schools and strengthening of our Institutions quality assurance," Ganduje said.
I'm his remarks, Prof. Osinbajo heaped a huge praise on Ganduje, saying that the introduction of Free and Compulsory Education by the Governor is triggering Educational Revolution, not only in the northern region but in the entire country.
"Kano is eminently positioning to trigger educational revolution around the northern region and Nigeria in general and the Federal Government must steam the tide to make it workable," Osinbajo said.
According to the VP, the administration of Muhammadu Buhari has made heavy commitment to invest in human capital that is why any support to educational development is being viewed with all seriousness.
Osinbajo noted that the Ganduje's educational reform is a milestone for Nigeria as whole, stating that it would amount to committing a crime for any state government that fails to impose compulsory education in the country.
"It is now a burden on us to reposition and reform education sector in order to utilize our human capital. What Ganduje has done in education is worth emulating and any state government that fails to impose free basic education is like it commits a crime.
" I congratulate Ganduje and Kano State for this milestone. It is not a milestone for Kano or North only, it is a milestone for Nigeria as a whole," the VP said
He said the Buhari administration is currently feeding 9.8 million children daily during school hours, noting that this clearly shows full commitment of the government in ensuring basic educational development.
He added that very soon the Federal Government will soon meet its target of feeding 15 million school children daily.
He said that Buhari's administration is continuously working in tandem with state governments to equip primary and secondary schools across the country with needed infrastructures so as to provide conducive environment for learning.
On his part, the Minister of Education, Adamu Adamu said what Governor Ganduje has done has made Kano to be a pacesetter in terms of educational reform.
According to him, Kano is like a model of northern region and whatever is introduced there would spread around the north, expressing optimism that the educational reform introduced by Ganduje would be opted by other northern states and would be a panacea to education problems in the region.
The minister maintained that though there were efforts by past administrations of the state towards education reforms, what Ganduje has done had been unique and worth emulating.
"This decision to make education compulsory from primary up to secondary school level in Kano is commmemdable and worth emulating. This is because illiteracy has become endemic in the North, that is why I call on other northern states to quickly emulate Kano State.
"Ganduje, we congratulate you. As for other northern governors, they have no reason not to copy from you. You have indeed set the ball running in terms of education reform," said Adamu
In his remarks, the emir of Bichi, Alhaji Aminu Ado Bayero said more than half of the out-of-school children in Kano are not from state, noting that some of them are from other neighboring countries.
He called on the stakeholders that to understand the concept of the summit and device means if support the Kano State government to accomplish its mission.
He also reminded parents who might violate the free and compulsory education in the state that there are punitive measures set aside without fear or favour.
On his part, the Ambassador of Saudi Arabia in Nigeria, Sheikh Adnan Mahmoud Bostaji noted that the summit is necessary and important because it would not only have positive impact on the people of Kano, but on Nigerian citizens as a whole.
He revealed that the kingdom of Saudi Arabia has been supporting Nigeria in terms if education, announcing that the Saudi government offeres 424 university scholarship slots to Nigerian students every year from different states of the federation.
While congratulating Governor Ganduje for the newly introduced education reform system, the ambassador hope the decision would go along way in improving education in the country.
Also in his remarks, Fahad Attafar, the UAE ambassador in Nigeria said his country has a long educational tie with Nigeria.
According to him, the UAE has invested in education in Nigeria, adding that it has established SkyLine University in Kano.
He commended Governor Ganduje for the initiative, promising to sustain the educational relationship with the state government.