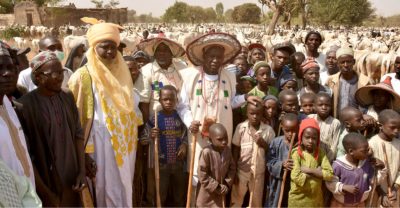 •As many feared killed in Adamawa clash
From Edwin Olofu Kano and Umar Dankano Yola
Kano state Governor, Dr. Abdullahi Umar Ganduje has called on all Fulani herdsmen resident in other parts of the country, especially Benue and Taraba states, to relocate to Kano state.
He said Kano state has vast grazing land to accommodate them and their cattle.
Ganduje, who was speaking while inspecting the vaccination of over one million cattle and other small animals' free-of-charge at Kadawa Artificial Insemination Centre in Garum Malam Local Government Area of the state, as part of activities to mark the 2017/2018 Livestock Vaccination Programme, condemned the recent killings emanating from clashes between farmers and herdsmen, describing it as unacceptable.
Speaking further during the event tagged ; "Towards Conservation of Livestock Resource and Animal Protein for Citizens of Kano," Governor Ganduje said the exercise was meant to keep the animals healthy and improve the economy of the state.
According to him, the over one million cattle and small animals vaccinated for free will be free of animal diseases, adding that his administration is committed to the welfare and economic wellbeing of the Fulani herdsmen.
He said as part of the government's commitment to encourage herdsmen in the state, Kano state government has continued to provide facilities that will contain the herdsmen and their cattle so as to prevent them from travelling to other states in search of grazing lands.
Ganduje also said that Fulani herdsmen of Kano origin do not move out of Kano to other states, "because we have enough grazing land, ranches and traditional stock route. So, they don't have any reason to move out of the state. We take care of them and we accord them the respect and dignity they deserve."
According to him, "I am inviting herdsmen from all parts of Nigeria to relocate to Kano because we have enough facilities to accommodate them. We have grazing lands in Rogo, Gaya, Kura, Tudun Wada, Ungogo and other reserved places where facilities are in place to accommodate the herdsmen and their cattle."
The governor also revealed that already, his administration is in collaboration with the Federal Government and foreign agencies to convert the Falgore Game Reserve into a modern grazing land.
He said, "Falgore Game Reserve can take care of millions of herdsmen and their cattle in Nigeria. The place has been designed to contain schools, human and animal clinics, markets, recreational centres and other social amenities that can give the herdsmen enough comfort to take care of their animals and do their business without hindrance.
"These killings must stop. We cannot afford to continue to witness these senseless killings in the name of Fulani herdsmen and farmers clash over lack of grazing land while we have a place like the Falgore Game Reserve underutilized."
Ganduje also said that his administration has embarked on the registration of herdsmen and the numbers of their cattle to enable government take care of them through free vaccination and other incentives that will add value to their business.
Meanwhile, the Adamawa state Police Command has confirmed the deployment of anti-riot detachment to the villages involved in a fresh herdsmen/farmers clash in Song Local Government Area of the state.
Spokesman of the Command, S.P Othman Abubakar disclosed the development in a mobile phone interview in Yola weekend stressing that, the details on the crisis is still sketchy as no official correspondence on the casualties figure yet.
Abubakar explained that immediately distress call came from the area some detachments of both the anti-riot police and military troops were relocated to the trouble area.
It could be recalled that, on Saturday reports had it that, scores of people were killed and about five villages were completely burnt following farmers/herdsmen clash in the said council (Song).
Villages razed down were Simba,Shure and other adjoining communities in hungry area of Song Local Government Area of the state.
Locals from the area told newsmen that that trouble started when cattle overran a pond, the only source of drinking water for the community and attacked a woman fetching water.
The woman who received beating from the herdsmen for complaining over the roaring animals rushed back to her community in pain, and the community in turn mobilized to the scene of the incidence and trouble started between the Fulanis and the communities.
In the ensuing confrontation, about four headsman were allegedly killed by members of the community and in a swift reprisal attack, the herders launched a ferocious on Simba and Shure villages and other adjourning communities where the entire villages were razed down killing an unspecified number of people.