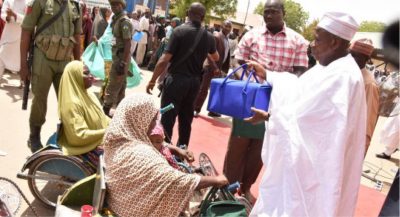 By Ese Awhotu
Kano state governor, Dr. Abdullahi Umar Ganduje, on Monday, flagged off distribution of 10, 000 free delivery kits to women across the 44 local government areas of the state.
"The safe-delivery kit programme, in which the state government invested N145 million, provides basic, inexpensive tools to help mothers and newborns avoid acquiring infections during childbirth" he stressed.
A statement issued to the media yesterday by Ameen K. Yassar, Director General Media and Communications, Government House, Kano, said the kit contains among other things a razor blade for cutting the infant's umbilical cord, soap, cord ties, a plastic sheet, disposable diapers and pictorial instructions. They are designed for use in the home by traditional birth attendants (TBAs) midwives and women delivering alone.
World Health Organization (WHO) research indicates that pre-assembled, clean delivery kits with instructions for use could be a vital component in the reduction of neonatal and maternal mortality and morbidity due to cord infection, tetanus, and puerperal sepsis.
According to Dr. Ganduje, "One of the key tenets of the Kano health policy is to achieve reduction in maternal and childhood morbidity and mortality by improving access to, availability, demand for and use of appropriate maternal and child care".
He stated that the state government trained and equipped 1,936 traditional birth attendants across the state to help in ensuring safe deliveries in remote villages with limited access to formal maternity services.
To further address gaps in primary healthcare, he asserted that the government has renovated and upgraded over 300 health facilities, across the 44 local government areas of the state, in addition to providing new specialized hospitals at Giginyu and Zoo road in Kano metropolis.
"We are also training new nurses and doctors to ensure that our population is of healthy quality and to prevent causalities, such as the deaths recorded during child birth", Dr. Ganduje maintained.
He stated that the state Ministry of Health has been directed to compile adequate data on pregnant women in the state, announcing that the government planned to give out gifts to those women who patronize clinics and health centers, as part of efforts to promote safe motherhood.
In his remarks, the representative of World Health Organization, WHO, Dr. Bashir Abba restated the commitment of the organization to promoting the health of women during pregnancy, childbirth and the postpartum period, commending the Ganduje administration for its efforts in that direction.
On his part, Dr. Ashiru Adamu lamented that an estimated 50, 000 women die during child birth in Nigeria, annually, pointing out that with effort such as that of Kano state government, the trend could be reversed.