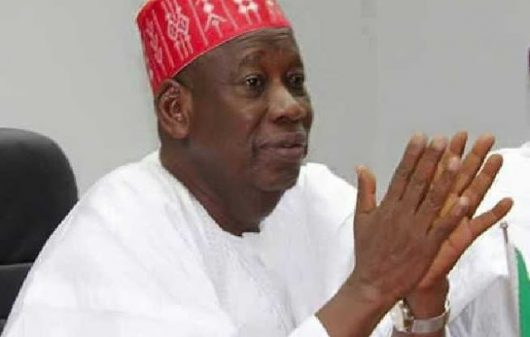 The Governor of Kano State, Abdullahi Umar Ganduje has said that Nigeria is in dire need of healthy and competent workforce to be able to compete  in the global economy.
Ganduje stated this at the opening ceremony of the 2018 Department of State Service Health Summit, held at the Coronation Hall, Kano State Government House, yesterday.
Represented by his Deputy, Nasiru Yusuf Gawuna, Ganduje stressed the need to ensure regular training and recruitment of young professionals in the health industry as the key to achieving healthy workforce.
He added that, the workforce of net contributors was aging and increasingly burdened with chronic illnesses, functional impairment and work disabilities.
The governor, noting that "to achieve a healthy workforce, there is need to maintain critical balance of net contributors versus net dependants. "
"The delivery of optimal care services to our employees and the young (our future workforce) is also very paramount in order to ensure healthy and productive workforce. ", he said.
In his remarks, the Director General of the SSS, Yusuf Bichi, said the theme of the summit! "Achieving a healthy productive workforce: Positive health seeking behavior and healthy life expectancy", was designed purposely to draw the attention of workers to realise the need for them to know their health status and maintain a healthy life.
The DG, represented by Aminu Chindo, said, given that, health experts have established a nexus between an individual's physical, mental and social well-being to optimal productivity at the workplace.
He however, called on the medical workers to adequately make use of the knowledge  imparted to them for the improvement of the healthcare sector in the country.