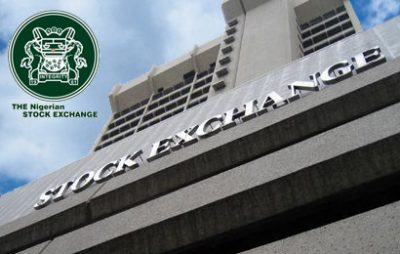 From Ngozi Onyeakusi, Lagos
Driven by activity in the financial services sector, transaction at the floor of the Nigeria Stock Exchange (NSE) last week ended on a positive trend as the twin market indicators gained higher.
Specifically, the NSE All-Share Index appreciated by 1.78% to close at 38,923.26 basis points from 38,243.19 basis points it opened with while the Market Capitalization equally increased by 1.78% to closed at N13.851 trillion from N13.609 trillion recorded the previous week.
Similarly, all other indices finished higher during the week with the exception of the NSE Premium, NSE ASeM and NSE Lotus II Indices that depreciated by 0.58%, 1.44% and 0.82% respectively.
Meanwhile, it was a four-day trading week as the Federal Government of Nigeria declared January 1st, 2018 as a public holiday in commemoration of the new year celebration.
Review of activity in the market showed that a total turnover of 2.417 billion shares worth N18.813 billion in 20,874 deals were traded in contrast to a total of 1.310 billion shares valued at N12.635 billion that exchanged hands in 9,016 deals the previous week.
The Financial Services Industry (measured by volume) led the activity chart with 1.677 billion shares valued at N8.734 billion traded in 13,033 deals; thus contributing 69.39% and 46.43% to the total equity turnover volume and value respectively.
The Conglomerates Industry followed with 536.922 million shares worth N1.258 billion in 1,288 deals. The third place was occupied by Consumer Goods Industry with a turnover of 100.460 million shares worth N6.951 billion in 3,426 deals.
Trading in the Top Three Equities namely – Transnational Corporation of Nigeria Plc, Diamond Bank Plc and Skye Bank Plc (measured by volume) accounted for 1.193 billion shares worth N1.681 billion in 2,957 deals, contributing 49.37% and 8.93% to the total equity turnover volume and value respectively.
Fifty-five (55) equities appreciated in price during the week, higher than thirty-two (32) of the previous week. Twelve (12) equities depreciated in price, lower than twenty-five(25) equities of the previous week, while one hundred and five (105) equities remained unchanged lower than one hundred and fifteen (115) equities recorded in the preceding week.
Top 10 Price Gainers
Sterling Bank led gainers table for the week, gaining 30.56 per cent or N0.33 kobo to close at N1.41 kobo, FCMB followed with 28.38 per cent or N0.42 kobo to close at N1.90 kobo. Diamond Bank Plc advanced by 26 .0 per cent or N0 .39 kobo to close at N1.89 kobo.
Other companies that appreciated in price are Skye Bank 22.00 per cent, Eterna Plc 22.18 per cent. Honey Well Flour Mills Old 20.0, Fidelity Bank 18.70 per cent, Linkage Assurance Plc 18.18 per cent, Unity Bank Plc 16.98 per cent, Livestock Plc 16.87 per cent.
Top 10 losers
On the other hand, II Plc recorded the highest loss during the week, depreciating 12.64 per cent or N24.60 kobo to close at N170.00, N.E.M Insurance Nigeria Plc trailed with a loss of 7.83 per cent or N0.13 to close at N1.53 kobo, Neimeth International Pharmaceuticals Plc down by 4.0 per cent or N0.03 kobo to close at N0.72 kobo.
Other firms depreciated in price were Omoluabi Mortgage Bank 4.0 per cent, Nation – Wide Express Plc 3.85 per cent, Nestle Nigeria Plc 3.60 per cent, Dangote Cement Plc 3.00 per cent, Presco Plc 2.92 per cent, PZ Cusson Nigeria Plc 2.91 per cent, Custodian and Allied Plc 2.31 per cent.
Also traded during the week were a total of 305,604 units of Exchange Traded Products (ETPs) valued at N3.498 million executed in 8 deals, compared with a total of 276 units valued at N9,865.34 that was transacted last week in 12 deals.
A total of 2,162 units of Federal Government Bonds valued at N2.016 million were traded this week in 9 deals, compared with a total of 422,672 units valued at N436.190 million transacted last week in 20 deals.