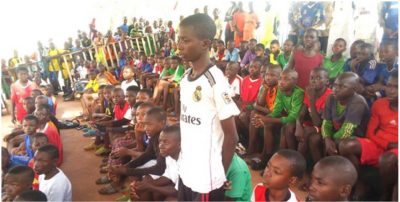 By Amaechi Agbo
The date was December 19, 2017. Like every other day, the pupils in primary six and students in JSS 1 in the ten Local Government Areas in Kogi State, particularly those who have football skills, indigent and wished to progress in it as their career, were apprehensive as they gathered in Bassa LGA headquarters for this year's Fosla Academy scholarship screening exercise.
The students, duly selected by their respective coaches and games masters were all seated at the venue; thinking of what the future could hold for them in their desire to be professional footballers.
Like every other candidate, Tukura Joel had come to participate.
Over three hundred pupils/students had gathered at the venue to decide who would be selected for scholarship with just 20 slots due to be filled.
To ensure fairness and strict adherence to the rules guiding the screening, the founder and proprietor of Fosla Academy, Alhaji Sani Lulu Abdulahi, called the ten coaches for a brief meeting before the screening got underway. During the meeting, the proprietor sounded it clear to them that "this screening is meant for children 13 years or below. Anybody who is 13 years and one month is not eligible to participate in the exercises. Therefore, to ensure fairness and justice, I give you ten minutes to go and meet your students and pull out those who are more than 13 years of age."
The coaches, in obedience to his directive, went and met their various students but no single player or student was identified as being overaged.
But the founder was not fooled. A cursory survey of the students could easily identify ones who were above the age limit.
He then asked the students that if there was any overaged student among them, the person should stand up.
There was dead silence for what seemed like eternity before Tukura Joel stood up and broke the silence by saying "I am 14 years, sir" to the joy of all but perhaps the consternation of his coach.
Tukura showed bravery and courage so uncommon among students of his age at present. He did not fear that his declaring the truth would be a grave indictment to his teacher or coach who selected him.
His confession was followed by an intense moment as both students, in their hundreds, including coaches, feared that the worst would happen.
When the proprietor finally stood up from his seat, Tukura could not look up again. He expected humiliation. He expected public opprobrium, contempt and reproach. He was nervous; he felt the ground could cave in and cover him.
But the smiling, reassuring face of the proprietor did not in any way justify Tukura's fears and trepidation.
Mr Lulu then called him and asked him to come to the front of the students which he did dragging his legs rather than walking.
He called him out and as a true father, placed his right hand across Tukura's shoulder and asked him what his name was.
"Tukura Joel," he had answered.
"How old are you?"
"I am 14 years, sir."
"Among the whole students, you are the only one who is honest, bold and sincere. You did something noble for being honest. You did not work against your conscience. You did not allow the devil to lead you. You are 14 years, a year older than the eligible age. For your honesty, I will give you automatic scholarship." The proprietor declared to the jubilation of everyone.
The promise was news to Tukura and his coach who perhaps, had never expected. Among hundreds of students, the Fosla Management was looking for 20 students to pick for the final screening in Abuja in September 2018.
It was a tremendous moment of indescribable joy that Tukura could not hold himself as cascades of tears ran down his cheeks. The proprietor hugged him even as his coach came to hug him too. Tukura instantly became a hero.
At the end of the screening, Fosla management selected 21 players instead of the mandatory 20 they went for. The Under13 finals of the screening will be played in January 1 in Ida LGA.
Fosla Academy is Nigeria's fist premier independent football college in which over 75% of the students are on scholarship.
The school combines knowledge and skills to make the students, who are future footballers, complete individuals, equipped in knowledge and skills to face and conquer the world.
Established in 2011 as a for most football academy, Fosla, each year, conducts screening test for indigent students in Kogi State, who, when selected would join their counterparts from FCT Abuja for another screening test where they will be tested based on their knowledge and academic excellence. A total of 40 students will be selected from Kogi and FCT in which the best 10 students will be given automatic, all-expense paid scholarship to study in Fosla Academy where they will combine academic activities along with football coaching and training.
It is among these categories, that Tukura Joel has become a beneficiary. Although Tukura is in automatic scholarship due to his honesty, he will also participate in the screening test slated for September next year.
The question then is what happens should Tukura fail the screening?
The Team Manager, Fosla Academy, Mr Ibrahim Mohammed Lawal said that irrespective of the result of his screening, it will not affect his automatic scholarship status.
According to him, "Tukura is on automatic scholarship but he will also write the screening. Right now he is in JSS 1. By September when he will write the screening, it will be based on JSS 2 curriculum. Should he fail to meet the required marks, it does not in any way affect his scholarship. If he fails the screening, his scholarship will not be revoked or terminated. No. What will happen is that he will start from JSS 1.
"At the screening in Kogi on December 19, we screened him based on his skills alone but the screening exam affords us the opportunity to assess his knowledge just as other selected candidates. In Fosla, we combine knowledge and skills to produce a complete productive man or woman.
"The automatic scholarship given to Tukura Joel is to encourage Nigerians that indeed, honesty remains the best policy. Our proprietor stands for and lives an honest, just and principled life and that was why he gave him the scholarship without delay. He encourages hardwork and integrity. If all of us can be honest in our lives, nobody will be talking about corruption in Nigeria. Nigerians should know that the virtue of honesty can never go unrewarded," he said.
On how the school will be able to monitor the progress of the students after graduation from Fosla Academy and up to tertiary level, Mr Lawal offered more explanations.
"The scholarship does not end at the secondary school level. It continues into the university. After the students graduated from Fosla Academy, he or she will be enrolled into either Nasarawa State University, Keffi or Fountain University, Oshogbo, Osun State. Fosla is in partnership with the two universities for enrolment of our students. We monitor their academic as well as football career development."
On sending the students/players to clubs both within and outside Nigeria to improve their football career, the Team Manager responded "Of course, we are doing well in both academic and skills development of our students/players which we combine. Clubs and agents besiege our Academy on regular basis but the issue is not sending them to clubs. The issue is about their development. That is our priority. It is a common knowledge that most professional footballers are not educated and this affects them later in life after they might have hanged up their boots. We do not want our students/players to witness such life. We want then to get their degrees before they pursue their football careers. So once the clubs or agents come, we have a clause in our agreement paper that states categorically that if you must sign our player, you must send him or her to school.
"Unfortunately, none of the clubs or the agents have been able to agree to this clause. The two factors – knowledge and skills – are critical to their development in life and we cannot sacrifice one for the other. When they get their degrees, they can sign for clubs but for now, we are monitoring them; their development is very important.
"One other factor we consider in not given them out to clubs yet is that we don't want them to suffer. A lot of players are in clubs suffering because their foundation was not well-structured. We also do not want to push our players into slavery because not all agents are genuine," he explained.
With three-quarters of Fosla Academy students on scholarship, one might presume that the school is supported with either government or foreign clubs, perhaps. But that was not the case. Fosla Academy has no external sponsor apart from the founder and proprietor, Alhaji Sani Lulu who is a seasoned sports administrator and one-time President of Nigeria Football Federation, NFF, from 2006 to 2010.
Every student on scholarship in Fosla Academy has an annual fee of seven hundred and twenty-five thousand (N725, 000) naira paid for by the proprietor.
The school has been doing wonderfully well in tournaments it has participated in with the most recent being the victorious triumph of the Karshi team at the just concluded FCT Principals Cup. The Academy has represented FCT in Shell/NNPC competition where they emerged runner up last year against Rivers State team.
Apart from Tukura Joel, other students who were selected for the second phase of the screening were:
1.Wisdom Adama -Bassa
2. Musa Abdullahi – Bassa
3.Bashiru Haruna-Bassa
4.Emma Peter – Idah
5.Ibrahim Alh.-Idah
6.Attah Sam-Idah
7.Mustapha Ameh-Idah
8.Usman Abass-Ankpa
9.Ahmed Musa-Ankpa
10.Ahmedu Isreal-Ibaji
11.Julius Bukie-Omala
12.Kabiru Aminu-Omala
13.Afuluku Sun-Ofu.
14.Ojima Negedu-Olamaboro
15.Solomon Achimugu- Dekina
16.Hamza Ibrahim-Dekina .
17.Salisu Danjuma-Omala
18.Abdullaziz Muhd-Dekina
19.Kabiru Usman -Idah
20.Ben Alfa-Igalamela
21. Abubakar Sadiq- Ankpa
It is therefore fitting to say that Fosla Academy represents the ideal institution where honesty is held at high and rewarded accordingly. With Tukura Joel joining this citadel of academic and football institution excellence, it is indeed stating the obvious to say that the fruit of honesty is indeed, God's blessings.