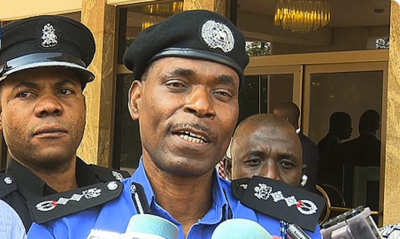 Monday Column By Emmanuel Yawe
royawe@yahoo.com | 08024565402
As a military Head of State in 1984, General Muhammad Buhari set in motion the initiative to establish the Special Anti-Robbery Squad of the Nigeria Police Force, SARS.
"Buhari was Head of State. He (Buhari) got a lot of complaint that people were stealing from each other, robbing people — he told me and Mr Inyang, the then IGP, that we must do something about it or be fired.
"Mr Inyang called me and told me to come up with a plan to save the country from thieves, so I said okay. I told him to give me his trust, resources and officers to start work.
"After four months of creating SARS, there was peace, those who were not caught ran, and those who were caught were sent to prison", recounts Mr Fulani Kwajafa, a retired Commissioner of police wo did the work of setting up SARS in 1984. He was speaking to the BBC. On the current controversies surrounding the organization he nurtured, he says: .
"This thing frustrates me. There is no reason why because someone commits a crime that the person should be killed. There are laws and no one will give an order that if you see armed robbers kill the person.
"I have been hearing disheartening news, to the extent that I have thought to myself that it seems among the SARS officials, there are armed robbers..
"This is not why we created SARS, the reason is completely different; this is not the purpose. In fact, when I am mentioned as the creator of SARS, I feel ashamed. It's a thing of regret for me.
"If I had known it would be like this, I wouldn't have created it because people who know when I established the unit always say to be, is it not Kwajafa's baby? But this is not what I birthed, it has been changed."
The Nigeria Police should be held accountable for cheaply availing itself to the self-serving and unpatriotic interests of politicians and government cronies. It is disheartening that despite the state of insecurity in the country, the police, in concert with acclaimed chieftains of the ruling class, continue to act with impunity and promote lawlessness. This unholy union between police officers and the privileged in society cuts across party loyalty, ethnic affiliation, or religious leaning. Anyone who is privileged to be associated with a high ranking police officer can just arrogate onto himself the powers of life and death, courtesy of the dubious efficiency of the police forces.
There is nowhere in the Nigeria Police Act that empowers it to be turned into illegal instruments of brutality and aggression to be employed by the high and mighty against perceived offenders. The Nigeria Police is not a private militia of private individuals. It is a security service to the state, whose primary purpose is to maintain law and order, and ensure security of lives and property of all citizens. The best way to ensure that the police and other security agencies, will return to their primary principles and practice and resist all attempts to be used by privileged individuals to settle personal scores is to decentralize the police. The country stands to lose with the present status quo.
Scores of Nigerians have been intimidated, extorted, robbed, kidnapped and even extra judicially killed by policemen. Others have been profiled for wearing tattoos and dreadlock and for using expensive phones. With the dissolution of SARS, the battle has been won, but the war is not over.