FOSLA Academy students excel in WASSCE exams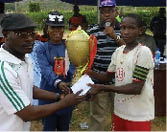 By Amaechi Agbo
Students of Nigeria's premier football academy, FOSLA Academy, Karshi, Abuja came out in flying colours in the just released 2018 West African Senior Secondary Certificate Examination (WASSCE) results of MAY/June 2018.
The school which registered 17 candidates for the examination is in cloud nine following the success stories of the results as they made distinction in the core subjects such as English, Mathematics, Chemistry, Physics, among others.
The school, known for its academic excellence, has every reason to rejoice as the results were a great improvement from what the students recorded in their maiden WAEC and National Examinations Council (NECO) last year.
A breakdown of the results indicates that 16 of the students credited English while one had a 'D'.
In Mathematics, 3 of the students scored 'A1', 12 'B2' and 2 'C5'. The least result in Chemistry was a 'C4' same as Physics and Biology. The students got excellent grades in Computer Science with 'B2' as the least result while the only 'E8' in the entire results was recorded in Geography and Government.
Speaking in an interview, the principal of the academy, Ebhodaghe Josephine, described the results as overwhelming and attributed the success to the commitment of the staff as well as the determination of the students who believed that they can indeed combine football and education and be successful in them.
"The result is overwhelming. I feel highly elated. I don't know why God loves me so much. I am so glad. Combining education and football development and coming out with these outstanding results, this can only be God. Truly, I am grateful to God.
"This year was better than last year's result. Even the distinction in the core subjects such as English and Mathematics. We had three distinctions in Mathematics this year. This confirmed what God said that we will never have a better yesterday than a greater tomorrow. Next year will be better.
Established in 2010, FOSLA Academy first had her first graduates last year with 25 students sitting for the WAEC and NECO exams while a total of 17 students sat for this year's exams. So far, the academy has graduated a total of 42 students who have excelled in the school that combines education and football.
Fifteen graduates of the academy are currently enjoying scholarships in Nasarawa State University in various courses.