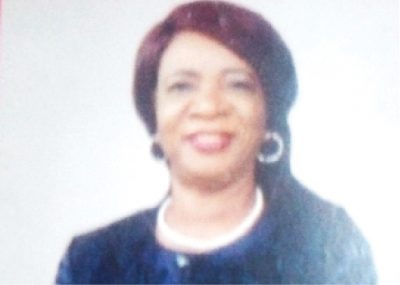 Monday Column by Emmanuel Yawe
royawe@yahoo.com | 08024565402
She has a regal bearing and a genial disposition. She illuminates every environment where she is found. Born great, she had greatness thrust upon her and yet that did not stop her from achieving greatness on her own.
"She is my sister that does no wrong" says James Orife, (FNMGS, FNAPE, PPNMGS, PPNAPE) a pioneer staff and former General Manager of Joint Ventures at the Nigerian National Petroleum Corporation, NNPC.
Dame Florence Ehinlaiye (nee Orife) has wrapped up all her life in learning, sharing and devotion to the welfare of the girl child and womanhood. In a country where traditional practices often deny opportunities of progress to the girl child and even adult women, she comes as something of a surprise.
Born as Florence Iviero Ada to Samuel Moniruvwe Orife and Irene Epaoga Orife on 7th May 1948, she was the first female child in the family. Two brothers – Prof John N Orife and Mavuaye James Orife came before her. Her father Samuel Moniruvwe Orife (SMO) was a pace setter in many aspects of his life as a school teacher and manager. Famed for his impeccable dress code and Lawn Tennis playing habit, he died at the early age of 58. Her mother Irene hailed from the Ifode lineage born to Akora Akpogbethe, a Prince.
From both the paternal and maternal lines therefore, Florence was born great.
She also had greatness thrust on her. Her father who registered her at the All Saints Primary School, Ondo in 1958 was a no-nonsense man. Her two senior brothers – John and James – attended the iconic Ondo Boys High School, Ondo where her father was an outstanding teacher. With a father as an exemplary teacher and two senior brothers as role models, Florence realized early in life that there was a road map of greatness to follow. Mediocrity was out of her way.
If Florence was lucky to be born great and had greatness thrust on her, she also strived hard to achieve greatness on her own steam. Sadly, for all her efforts at the All Saints Primary School Ondo, she could not meet the high standards her father set for her. Because she could not pass the National Common Entrance Examination, gaining admission into Queens College, Yaba Lagos which her father wanted her to attend was out of the question. Her frustrated father made her repeat the First School Leaving Certificate Examination at the Messiah Primary School Ondo in 1962.
She and 33 other girls became the pioneer students who started the Anglican Girls Grammar School (AGGSU) in Ughelli. But having let her father down in the first attempt, Florence was able to make her father proud at the AGGSU. From form one to form six, she maintained the number one position in class. At the WAEC of 1968, she scored 16 aggregates, emerging the best female student in the Mid-West State.
This was no mean achievement for in her final year in 1968 she was appointed the Head Girl of the school. That same year, the students rebelled over the poor quality of food given to them and as the Head Girl, she was expected to subdue the commotion. Her failure incensed the school authorities and the panel set up by the State's Ministry of Education. She was suspended from school in the second term of her final year and was allowed back only in the third term to sit for her WAEC O' level, which she passed with a smashing record setting result.
Florence began to learn and to learn fast the art of fighting from disadvantaged positions to gain entrance into first class cabin. She moved on to St. Anne's School, Molete Ibadan, the oldest girl's school in Nigeria for her two-year (H.S.C) course 1969-1970. Established in 1869, her year of admission coincided with its centenary celebrations. It was quite an experience for Florence, daughter of the no-nonsense school teacher now interacting with daughters of High Court Judges and Medical Doctors.
It was at St Anne's school that she met Miss Howard, her Vice Principal whom she convinced to accept the challenge of becoming the Principal of her alma mater, AGGS Ughelli. She returned to Ughelli after her H.S.C program to meet Miss Howard who gave her a surprise welcome by immediately appointing her a teacher/librarian in her old school. Just when she thought she was meeting up the high standards set by her father SMO, came the devastating news of her father's sudden death.
Not deterred by the sad news, she moved on in the same year 1971 to enroll into the University of Ibadan, Nigeria's premier university where she was one of the lucky few to gain admission that year.
Things were moving very fast. She was on her first holiday from the university, staying in her brother's (James) house in Warri when she met Chris Ehinlaiye who launched a fierce courtship of her, saying he would not accept NO for an answer. By 16th September 1972, Florence and Chris were already husband and wife.
Then the children began to come. First was Upe on the 31st December 1974. Ozozoma came one and half year after Upe, 30th June 1976. Onesi, the first son came on 29th June 1978. Then came the twins-Omotere and Ozavogu whom she calls "the greatest miracle of my marriage – two for the price of one".
On 1st February 2001 tragedy struck. Florence lost her better half. But she took her tragedy with unusual philosophical calmness. "The sudden loss of a spouse is never a thing to desire" she said adding jokingly that "I, had to make very far reaching decisions concerning the children's education at home and abroad. I had no partner to quarrel or fight with."
The family continues to grow stably. The girls, Upe, Ozoz, Kovie, Onize have all married. "I am waiting for the boys to take us to the right families to ask for blessed ladies for marriage while I pray for the right men to equally visit my home."
Professionally, Florence started her career as a teacher in 1975 at Nana College Warri and up to 1980 she was there on secondment to help realise the Universal Primary Education Program, UPE. In 1980, she again became a student by enrolling for a Post Graduate Diploma in Education program at the University of Benin. She also marked WAEC papers in English from 1977 to 1992 when her husband ordered her to stop and she did.
Outside the family, Florence started a private school in 1985, a realization of what she calls her "utopian dream" as child to own a model school. The school has over the years produced award winning professionals who have become what she calls "global citizens."
A prolific writer, she has authored two books: The Girl Child and Of Visions And God's Grace.
She is also deeply involved in such humanitarian activities like the International Lions Clubs where she rose to the position of District Secretary and such Academic and Professional Associations in Education as APSON, SOFSON and NAPPS.
In recognition of her virtues as an upright Christian wife and her services to the Church, she was Knighted by the Anglican Communion. The Uzere Community in Delta State also hunoured her with the title, Oniemo of Uzere Kingdom. She was also appointed by the former Governor of Delta State, Emmanuel Uduaghan to serve on the committee on the Management of Federal Government Fund and Flooding rehabilitation of victims in Delta State.
For all her accomplishments and awards, Dame Florence Ehinlaiye will remain an unsung heroine if the Federal Republic of Nigeria does not accord her a proper place as a recipient of a National Award.