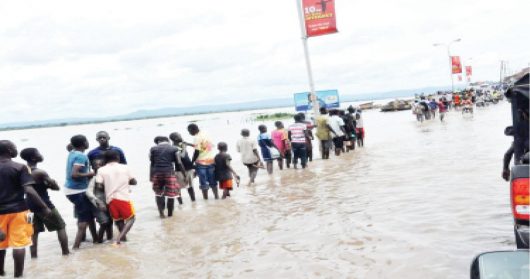 By Mashe Umaru Gwamna,Jennifer Joanh
The National Emergency Management Agency (NEMA) said over 441,251 people has been affected in 50 Local Government Areas by flood which was caused by heavy rainfall since late August.
Peoples Daily recall that few weeks ago NEMA and other stakeholders have declared National Disaster due to the high level of water recorded.
According to NEMA reports, 192 were injured, destroyed and 653 Agricultural lands destroyed, 108 dead, 13,031 human The report also emphasised that, more numbers are expected to rise as investigations are still ongoing in some states including Rivers and Bayelsa states.
Consequently, 12 states affected, 4 states declared under National Disaster and 8 other states under red alert.
In a statement signed by Head Media and Public Relations, Sani Datti said some families are been evacuated to nearby camps by NEMA and the military who were still trapped in their homes to avoid loss of more lives and injury.
The statement further expressed that there is an urgent need to assist in both food and non food items for the affected.
However, In order to be more alert and informed NEMA has activated five National Territorial Emergency Operating Centers (EOCS) each covering two or three states to facilitate response and collect information on critical gaps and need.
Meanwhile, the water level estimated by NIHSA fall down to 10.026 meters after having reached 11 meters on 21 of september, while on 24 september the water level on River Niger drop down lower than the water level recorded thesame period last year.