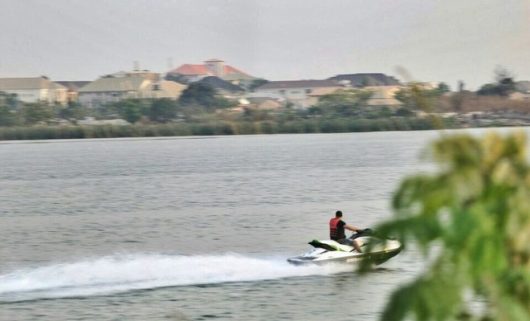 By Stanley Onyekwere
Fishermen at the Jabi Dam site fishers' village has warned against the use of chemicals in the lake, as it portends mortal dangers to the society.
Making this point, Director, Animal Production, Mrs. Ifeoma Okeke when she led a team of officials from the Agriculture and Rural Development Secretariat (ARDS), to supervise the cleaning of the lake by the Fishermen.
Okeke, who cautioned fishermen on the health hazards associated with poor sanitation, called on them to maintain a clean and healthy environment.
While addressing the fishermen at the start of the exercise, Mrs. Okeke stressing that as their source of livelihood, they are the risk of contacting food and water borne diseases which can easily be spreads to other members of the community.
According to her, "We have received reports that some of you make use of chemicals to catch fish.
"This is really a dangerous practice and we have the permission of the authorities to take punitive action against any fisherman caught using chemicals to fish."
She assured them that while the Secretariat will take measures to address the issue of water weeds, the fishermen should avoid dumping of waste materials in the waters as they constitute deadly contaminants that can endanger both marine and human lives.
On the issues of encroachment, the Director assured them that Secretariat look into it so that the fishing site will not be convenient for miscreants to operate. She advised the executives of the Fishermen to sustain the exercise to be on a weekly basis.
In his remarks, he Head of the Fishermen Mr.Audu Bako thanked the Agric. Secretariat for the initiative assuring the readiness of the fishermen to comply with the all the regulations as set by the FCT Administration.
"We want to use this opportunity to thank the FCT Administration for the privilege of allowing us earn our living in Jabi Dam site.
"The initiative is highly commendable because it helps us maintain good health to enjoy the sweat of our labour," he said.
During the exercise the fishermen cleared the water hyacinths as well as blocked drainages in the surroundings in the community.